Event for 2023 Cancelled
The Denbigh Harriers organised Fairy Freckled Cow Trail Race around the Alwen Reservoir for 2023 has sadly had to be cancelled. Natural Resources Wales (The leaseholder from Welsh Water of land around the Alwen) is not willing to issue a permit to use the tracks and footpaths used during the race. Without this permission the race can not be held this year and all participants who have already registered and paid for the race will be refunded their entry fee.
For next year Denbigh Harriers are confident of meeting Natural Resources Wales' stricter criteria and that permission to run the race will be granted for 7th July 2024.
Denbigh Harriers apologise for any convenience caused by this and thank everyone involved in organising the race  for their support.
Sunday, 2nd July  2023 at 11.30 – CANCELLED
Natural Resources Wales permission applied for
Welsh Athletics License applied fo
Free Technical T-shirt to all finishers
North Wales Trail Championships (See below for entry criteria)
Race details
This event takes place annually at the Alwen Reservoir (not be confused with the smaller Llyn Alwen).
Sunday, 2nd July 2023 at 11.30
With the kind permission of Welsh Water and Natural Resources Wales 
Entry £14 in advance  (plus £2 for unaffiliated) on www.fabian4.co.uk. Minimum age – 18 years. Entry on the day £15 (plus £2 for unaffiliated)
Category prizes plus a technical t-shirt to all finishers.
Limited car parking. Please car share if possible.
10.7k distance 177m ascent or 6.7miles and 582ft
Llyn Alwen Reservoir OS Grid Reference SH 955530
The Entrance to the parking is OS Grid Reference SH 963522
N.B. There is no water station on the course so if you think you will need water during the course please carry it. There will be water at the finish. 
North Wales Trail Championships Entry Criteria:
The Fairy Freckled Cow Trail Race 2023 has been selected as the North Wales Championship Trail race for 2023. Entries for the North Wales Championships close on the 30th June.
Entry criteria:
Birth: born within the area covered by North Wales Regional Athletics Council  (N.W.R.A.C).*
Residence: Continuous residence within the area covered by N.W.R.A.C. for at least 9 months since October 1st 2022.
Retention: An athlete may retain his/her qualification to represent N. Wales and compete in the N. Wales Regional Championship, provided that he/she has not represented another Region or County (District in Scotland), nor competed in a different Regional or County (District in Scotland) Championship in the same year of competition.
Where an athlete competes for a club not based in Wales but does qualify on one of the above three criteria, they must register with Welsh Athletics to be eligible.
Entrants must be members of affiliated Clubs, be current members of the registration scheme of Welsh Athletics
* Conwy,Denbighshire, Flintshire, Gwynedd, Wrexham, Ynys Mon And North Powys
FFCTR  Results 2022 FFCTR Race Result 2022
FFCTR Results 2021FFCTR  Results 2021
2019 Results FFCTR Race Result
2018 results FFCTR2018
2017 results provisional FFCTR – 2017 
2016 results ffctr_2016_results
2015 results alwen_results_2015
Race route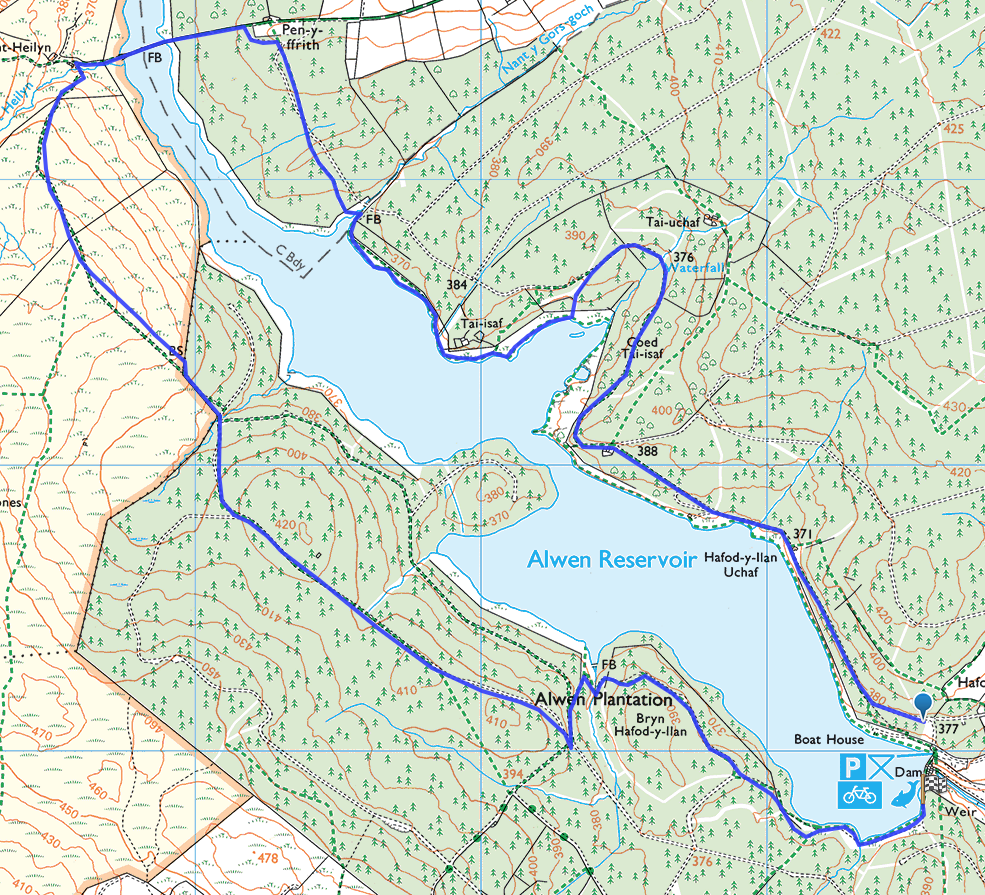 Parking and registration
For 2023 a  parking area has been opened up for us separate from the public access to the Alwen. Access to this parking is from the B4501 opposite the signposted road to Pentre-llyn-cymer. OS Grid Reference SH 963522 Google map link This will be signposted from the B4501 and there will be a marshal at the entrance to give you instructions.
On entering the car park area follow the signs until you come to a large turning circle at the end and then drive back down the track parking on the left facing the entrance. There will be a marshal to help you.
Entrance to the parking area will close at 11:20am before the race. Please make sure you leave the parking area before 2pm as the gate has to be locked when we leave.
Race HQ will be situated near the parking turn around point.  This is where you will collect your race numbers and where toilets are available. There is a short marked footpath to the race course.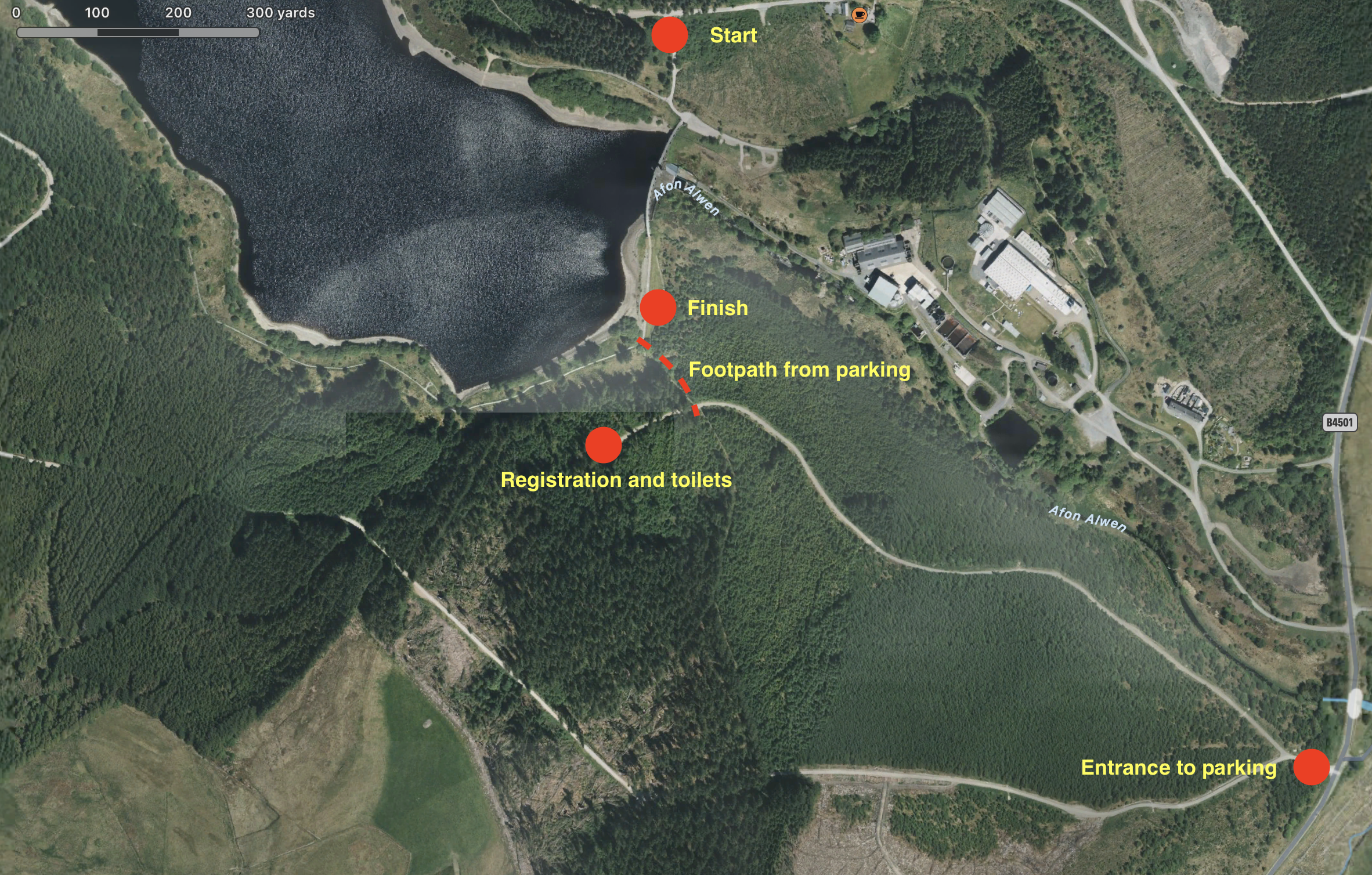 Volunteer Information
Volunteer Code of Conduct
Volunteer Code of Conduct V3 May 
Emergency Plan Fairy Freckled Cow Trail Race 2021