Women show their class at the North Wales Cross Country League
A beautiful Autumnal Saturday and it's cross-country at new – well not used for over 30 years – course at Fox Hills in Colwyn Bay. Spectacular views from these hills – the course has previously been used for Fell races – so the race promised to be tough but well suited to our many fell runners with Menai Baugh (2nd VF60) and Vic Belshaw (3rd VM55) well up their respective fields.
The ladies raced first. A great turnout with 4 of our top 6 ladies racing as many return from injury supported by another 8 on the course, all hoping for a good race and support our team efforts in Division One by keeping our competitors at bay.
Leading the ladies home over this 3 mile course with 550ft+ climb was Rhian Pierce finishing in 10th, 22:50 in spite of a cold to keep her 2nd WV35 place. Emma Collins at home on the hills retained her 1st  VF55 place in 32nd and 25:15, followed by fellow fell runner Ceri Belshaw in 35th 25:28. Great to see Ceri Diss back from injury – what a comeback race –just behind Ceri Belshaw in 36th 25:30 and 2nd VF50.
It speaks volumes for how we have come on in the last few years versus our Welsh rivals. Eryri impressed here as they are well known for fell running but we beat Buckley because their 4th counter was behind Alaw Evans 40th 25:50 and Katy Baugh 6th 27:03 (our 5th and 6th counters) with Prestatyn's 4th counter was behind Alaw too.
Melina Morris 68th 27:48 and 4th VF45 was home next with Sioned Griffiths just behind in 72nd and 27:55 and Elen Baugh 80th 28:15. Menai Baugh was next in 90th 29:26 and 2nd VF60 with Anwen Brown 115th 31:41 and Dawn Marshall 133rd 32:27 both showing determination and how to make progress after months of injury. The women's team stay 5th in Division 1 and 4th in the Female Masters.
In the men's race missing many of our usual counters this tough run – over 1000ft of climb over 5.3 miles for the men – was even tougher from a team perspective. Joe Welch 42nd 39:06, putting in a fast time so soon after Chester marathon was supported by fell runners Vic Belshaw 68th 41:46 and Tony Wood 74th 42:14. Also fans of the fells our 4th and 5th counters were Owen Conry 87th 43:49 and Mat Jones 92nd 44:23 with new member Richard Debicki pulling on a Denbigh Harriers vest less than a week after joining to finish in 121st 47:15 as our 6th counter.
Cross-country stalwarts and rivals Duncan Jones and Tony Benton were home next with Duncan 132nd 48:25 getting the better of Tony 140th 48:53 who came storming through the line refusing to let his nearest rival get the better of him. Another new member Mark Jones in his first Cross-Country race for the club had a real baptism of fire in 154th 54:21 with Chris Baldwin, delighted that next season it'll be just the one hill lap over this course when he moves to the VM65 category and races the womens shorter course, finished strongly in 158th 57:00.  The men stand 8th in Division 1 and 9th in the Male Masters. Next race is the much flatter and faster Wrexham.
If there were a lot of Harriers racing on Saturday, there were almost as many racing in Flintshire on Sunday in the annual RunWales Flintshire 5k and 10k races. Usually multiple races are run concurrently, not so at Flintshire, meaning Ian Jones could do both. Hats off to Ian, who put thoughts of racing for himself aside to pace his daughter Jessica to a PB in the 5k before pacing fellow Harrier Hannah McDonnell to a PB in the 10k.
In the 5k, Craig Jones took 6th in 18:45, a massive improvement of nearly 2 minutes faster over this course than last year. Jessica Jones was next in 110th and 46th Lady with a PB by just shy of 4 minutes in 33:07 with Dad Ian 111th 33:07.
In the 10k, Mari Williams was first Harrier home with a PB of 52:27, followed by Sali Powell 52:49 and 86th. Ian Jones 259th 55:37 saw Hannah McDonnell safely over the line in 55:37 and 260th. Hannah hoping for just under 58 mins was delighted to take 2:37 off her PB. Good to see Helen Davies back racing as she returns from injury to train for the London Marathon in 366th 1:01:49 with Paul Jones in his first ever 10k race in 1:01:58 368th just in front of Meinir Hughes, in her first race in 18 months, in 1:02:00.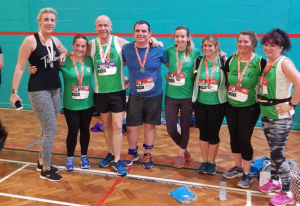 Left to right: Jessica Jones, Hannah McDonnell, Ian Jones, Paul Jones, Mari Williams, Sali Powell, Helen Davies, Meinir Hughes
Ceri Belshaw, her second race over the weekend, took to the hills again on Sunday morning to race the Clwydian Hills Fell Race. This 9 mile race with 3000ft climb is a tough one with Ceri once again showing her love of the hills finishing 3rd SF in1:46:40.
Over at Wepre Parkrun, Sarah Bayliss was 43th and 6th Lady in 29:21, whilst at Mole Valley in Dorking Hywel Roberts ran his parkrun PB in 22:54 to finish 27th.
Results
North Wales Cross Country League – Colwyn Bay Women Rhian Pierce 10th 22:50, Emma Collins 32nd 25:15, 35th Ceri Belshaw 25:28, Ceri Diss 36th 25:30, 40 Alaw Medi 40th 25:50, Katy Baugh 57th 27:03, Mel Morris 68th 27:48, Sioned Griffiths 72nd  27:55, Elen Baugh 80th 28:15, Menai Baugh 90th 29:26, Anwen Brown 115th 31:41, Dawn Marshall 133rd 33:27. Current standings: after 2 races Division 1: 5th 137 points. Female Masters 4th 43 points Men Joe Welch 42nd 39:06, Vic Belshaw 68th 41:46, Tony Wood 74th 42:14, Owen Conry 87th 43:49, Mat Jones 92nd 44:23, Richard Debicki 121st 47:15, Duncan Jones 132nd 48:25, Tony Benton 140th 48:53, Mark Jones 154th 54:21, Chris Baldwin 158th 57:00. Current standings after 2 races: Division 1: 8th  935 points. Male Masters 9th 263 points
Flintshire 5k Craig Jones 6th 18:45, Jess Jones 110th & 46th Lady PB 33:07, Ian Jones 111th 33:07 10k Mari Williams 176th PB 52:27, Sali Powell 186th 52:49, Ian Jones 259th 55:37, Hannah McDonnell 260th 55:37, Helen Davies 366th 1:01:49, Paul Jones 368th 1:01:58, Meinir Hughes 372th 1:02:00
Clwydian Fell Race Ceri Belshaw 39th & 3rd SF 1:46:40
Parkrun Wepre Sarah Bayliss 43th & 6th Lady 29:21 Mole Valley Hywel Roberts 27th PB 22:54