Menai Baugh crowned 1st VF60 Welsh Fell Running Series Championship 2018
Having already won her category in the North Wales Series Fell Running Championship, Menai Baugh who's been clearing up on the fells in her VF60 category this year, went one better this weekend taking the win for the VF60 category in the Welsh Fell Running Series Championshio 2018.
The last race of the series took place in Breidden Hills – a super tough course, not helped this year by Storm Callum, meaning the 7 mile race with 2300ft of ascent was very slippery underfoot with the rain showing no sign of letting up. Competing against athletes from across the country, many unknown to her, meant Menai had to bring her A game and that she did pushing herself to her limits and finishing in a course PB of over 1 minute in 1:34:34.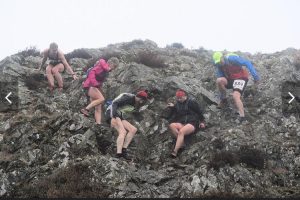 Menai Baugh, 2nd left in pink, shows fell running is not for the faint hearted!
In the no less wet Manchester half marathon on Sunday, 5 Harriers took to the course. First home was Phil Hayes. This is almost getting to be a weekly occurrence – 2 races over the weekend and a shiny new PB. Phil completed the course in 1:34:18, a PB of nearly a minute, a day after racing in the wet at Bodelwyddan Castle parkrun. Next in was Mike James in a great time of 2:08:56. First lady was Nicola Field with a whopping PB, taking 14 minutes off her previous race time in 2:11:48. Well done Nicola, that'll set you up nicely for your first marathon in London next year. Lisa Dafydd, with a further long race to add to her already busy Autumn, finished in 2:18:13. Craig Jones also completed the course pacing his girlfriend to sub 2 hours in her first half marathon.
Six Harriers chose the tougher local parkruns on Saturday, and despite Storm Callum and the pouring rain, our runners weren't letting the weather impact their performances. At Bodelwyddan Castle, Ceri Belshaw, 12th and 2nd Lady in 22:42, wasn't hanging about, 33 seconds off her previous best, again proving herself able to climb hills better than she goes on the flat. Elen Baugh wasn't hanging about either. 19th & 5th Lady in 24:51, Elen ran one of her best races ever taking another 33 seconds off her already impressive best on this course and only 30 seconds behind her sister Katy, 16th & 4th Lady in 24:19, in a fast time for her on this course. Phil Hayes in his aforementioned first race of the weekend was 4th overall in 21:35 whilst Chris Baldwin was in 24th in 26:06. Over at Wepre, Tony Benton was 26th in 24:41 in a close race, no doubt deploying his famed sprint finish against eight others who were just under the 25 minute mark. Good to see Sian Pritchard back at Bushy Park in 27:28.
It's October so the start of the Borders League season where we report on Denbigh Harriers in disguise as members compete for their second claim clubs in a league we don't participate in. The new season started in New Brighton with conditions perfect for the 411 runners racing a flat five mile circuit along the prom and round the coastal embankment. Vic Belshaw was 119th in 32:06 and Emma Collins 202th in 34:47 and 1st VF55.
Results
Breidden Hills Fell Race Menai Baugh 1st F60 1:34:34
Manchester Half Marathon Philip Hayes PB 1:34:18, Michael James 2:08:56, Nicola Field PB 2:11:45 , Lisa Dafydd 2:18:13
Parkrun Bodelwyddan Castle Philip Hayes 4th 21:35, Ceri Belshaw 12th & 2nd Lady PB 22:42, Katy Baugh 16th & 4th Lady 24:19, Elen Baugh 19th & 5th Lady PB 24:51, Chris Baldwin 24th 26:06 Bushy Park Sian Pritchard 156th 27:28 Wepre Park Tony Benton 26th 24:41
Borders League Vic Belshaw 199th 32:06, Emma Collins 202th & 1st VF55 34:47