Tracey Williams makes an epic comeback winning the Denbigh Harriers Johnson's Monument 10k Club Handicap Race
This weekend saw the Denbigh Harriers annual Johnson's Monument 10k Club Handicap Race. Not quite midwinter and not quite as cold (6C) or wet as expected given the previous day's high wind and rainfall. Mud was definitely on the ground but not as thick as last year, so altogether one of the better years for record chasing. The 24 who turned out were  a selection of the top thirty in the club, though this is meant to be an event for everyone, the handicap means the slowest or fastest runner can win on the day with their handicap start time determined by their current performance. This race is a hard 6 miles with over 400 ft of climb and the dreaded laryngitis bug had slayed a few, and others have had a tough last few weeks of racing so actually 24 was good turnout. In the end no records were broken – but Shaun Hughes 40:09 and Rhian Pierce 46:56 who took a detour again got quite close and there were eleven sub 50 minute performances with Shaun, Phil Hayes 47:39, Huw Williams 48:17, Steve Gadd 49:26 joining the all-time great list.
Tracey Williams's phenomenal return was certainly unexpected, and she even out-kicked Rhian Pierce into the finish. A year ago she was so disappointed at her lengthy injury that she threw away her cross country shoes (the ones which previously won her the W50 League championship) so this performance on the mud had to be achieved in road shoes. She was confident into the finish straight holding off those behind her and beating Rhian into second by 4 seconds. The top 6 finished within 30 seconds of each other – hats off to our handicapper Chris Baldwin.
Tony Benton won the men's race, taking third overall in 49:59. Menai Baugh took another record this year, this time fastest VF60 for this race in 60:51. It was a good day for most of family Baugh. David finished ahead of all he was handicapped with in spite of usually being behind them in XC races. Elen had an excellent race recording a faster time than sister Katy for the first time.

Full results Tracey Williams 1st 53:52, Rhian Pierce 2nd 46:56, Tony Benton 3rd 49:59, Shaun Hughes 4th 40:09, David Baugh 5th 46:14,  Jon Whitehead 6th 57:22, Anwen Brown 7th 61:25, Owen Conry 8th 46:39, Glen Price 9th 43:58, Huw Williams 10th 48:17, Steve Gadd 11th 49:26, Phil Hayes 12th 47:39, Mat Jones 13th 47:47, Menai Baugh 14th 60:51, Elen Baugh 15th 56:58, Chris Baldwin 16th 59:07, Ian Jones 17th 56:23, Dan Schraibman 18th 56:59, Sali Powell19th 61:52, Roger Snaith 20th 64:55, Fred Jones 21st 57:06, Tony Wood 22nd 48:23, Bob Neale 23rd 60:02, Katy Baugh 24th 57:27 (despite short-cut when she realised it wasn't her day!)
Sadly missing the Johnson's two Denbigh Harriers travelled to Ludlow for the fantastic Mortimer Forest Trail Run, a tough but fantastic race with 8.75 miles with around 1400 ft ascent – the ambition to tick this race off the list. The first 2 miles climb through woods leading to Poison Bank, 300 feet climb in 3/8 of a mile. A nice running section leads to the 'Big Dipper', 3 steep slippery downhill slopes each followed a very steep uphill, then a gradual mile climb to the course's highest point. From here it's downhill through a mixture of twisting forest trails, a final climb then a mad fast dash downhill through woods to the finish. Sounds a great day out! Vic Belshaw had a stormer of a race taking 1st MV55 as he finished in 34th in 73:10. Emma Collins, in an exceptional pace continuing her fantastic year, was 1st veteran lady in 79:43 and 76th overall in a field of over 400. Well done both!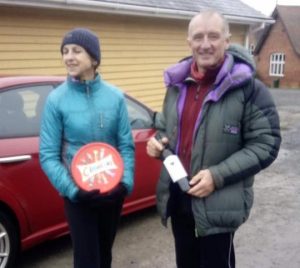 Ceri Belshaw won the prize for furthest race from Denbigh this week as she ran Whangarei parkrun in New Zealand. She was 2nd lady in 22:14. Hywel Roberts took the trip to Nant y Pandy and came away with a parkrun PB of 21:43 as he continues his training for next year's London Marathon. Dad David and daughter Katy Baugh took their first runs of the weekend at Conwy Parkrun. David was 11th in 21:20 and Katy 8th Lady in 26:20.
Results
Johnson's Monument Club Handicap Race Tracey Williams 1st 53:52, Rhian Pierce 2nd 46:56, Tony Benton 3rd 49:59, Shaun Hughes 4th 40:09, David Baugh 5th 46:14,  Jon Whitehead 6th 57:22, Anwen Brown 7th 61:25, Owen Conry 8th 46:39, Glen Price 9th 43:58, Huw Williams 10th 48:17, Steve Gadd 11th 49:26, Phil Hayes 12th 47:39, Mat Jones 13th 47:47, Menai Baugh 14th 60:51, Elen Baugh 15th 56:58, Chris Baldwin 16th 59:07, Ian Jones 17th 56:23, Dan Schraibman 18th 56:59, Sali Powell19th 61:52, Roger Snaith 20th 64:55, Fred Jones 21st 57:06, Tony Wood 22nd 48:23, Bob Neale 23rd 60:02, Katy Baugh 24th 57:27 (despite short-cut!)
Mortimer Forest Trail Run  Vic Belshaw 34th & 1st MV55 73:10, Emma Collins 76th & 1st veteran lady 79:43
Parkrun 26:20 Whangarei Ceri Belshaw 13th & 2nd Lady 22:14 Nant y Pandy Hywel Roberts 4th PB 21:43 Conwy David Baugh 11th 21:20, Katy Baugh 56th & 8th Lady