Vic Belshaw & Menai Baugh crowned category champions at the North Wales Cross-Country Championships at Rhug
You'd expect most people to ease back and put their feet up over Christmas and New Year, not so if you're a Denbigh Harrier, races on Boxing Day, pre-New Year and the opportunity for double parkruns on New Year's Day kept our runners busy with a few eyes firmly on the North Wales Cross-Country Championships at Rhug on 5th January.
Duncan Jones took part in Boxing Day's Dash to the Devils Chair on the Stiperstones. 3 miles / 800 feet. Very much part of the Christmas running scene in Shropshire and probably the usual 300 runners on course. Duncan a regular at this fixture was pleased with 32.03 and nearly 40 seconds quicker than last year though no ice this year. Short but steep slopes and a rocky and muddy ridge run keep it interesting.
On the 30th of December, several Santa Claus, complete with a decorated tree, and elves were alongside the 5 Denbigh Harriers who among the 74 runners who made their way up to Moel Famau to the start of this year's Jubilee Plunge, the aim – get back to the pub in Llangynhafal 2.2 miles away as quickly as possible in this local race organised by Harrier Tony Benton. Low cloud and limited visibility at the top made for a tentative start to the descent, however, once clear of the cloud, soft to firm conditions underfoot made for a quick race down to the finish. The Harriers were led home by Tony Wood taking 13th in 13:48. Katy Baugh was 32nd and 3rd Lady in 15:18 with Ruari Benton 40th in 16:19. Menai Baugh was 54th and 1st VF60 18:15 with Dawn Marshall 72nd in 24:33. Great fun!
And so to Rhug for the 2019 North Wales Cross Country Championships where we saw the highest standard in this race for a long time. 3 miles for the ladies and 65+ men, 4.5 miles for 60-65 men and 6 miles for the under 60 men over the fields – this is a tough race. In the ladies race, Rhian Pierce took 7th in this bigger field, on a par with her previous win here, taking 3rd in the VF35 category and confirming her return to form. Next in was Elen Baugh 23rd  in 25:07 – a significant breakthrough in her racing and great to see her so far up the field. Melina Morris was 27th in 25:56 and laying her demons from Llandrindod Wells to rest to take 3rd VF45. Katy Baugh was just behind in 29th and 26:05. Great to see a rejuvenated Sali Powell back on the fields finishing in 38th and 27:22 with Mari Williams just behind in 39th and 27:48, this her first cross-country race. The unstoppable winning machine that is  Menai Baugh won her category comfortably in 41st and 28:28, whilst Dawn Marshall's progress back to fitness is particularly welcome with more to come, we're sure in 53rd and 31:51.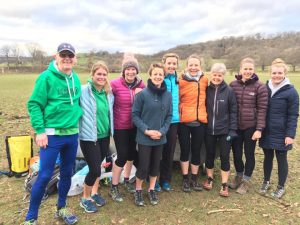 Left to right: Bob Neale, Sali Powell, Dawn Marshall, Rhian Pierce, Mari Williams, Melina Morris, Menai Baugh, Katy Baugh, Elen Baugh
In the men's race, Shaun Hughes was first Harrier home in 11th and 36:01. Great to see Shaun back at cross-country. The battle for 2nd Harrier was fierce for 4 laps with the position changing as the race progressed. Ultimately it was Vic Belshaw who was triumphant securing not just 2nd Harrier but his category win VM55 as he finished in 35th and 41:02 followed closely by Glen Price 36th 41:13 and Tony Wood 37th 41:16. There's wasn't the only Harrier battle. David Baugh won out over Mat Jones, with David taking 3rd VM55 and finishing 42nd 43:33 and44th 44:10 respectively. In the final Harriers battle, at times it looked as though  Duncan Jones and Tony Benton were holding hands as they ran – they were that close. Duncan edged it in the end with only 8 seconds between the 2 of them in 50th 46:34 and 51st 46:42 respectively. In the 60-65 category Fred Jones was 6th  in 37:58 whilst in the M65+ race it was great to see Bob Neale back on the fields taking 5th in 28:16
Preferring a slightly longer run, Rob Parry and Hywel Roberts made their way over the Dee to run in The Wirral Way Half Marathon (Winter Edition). Held largely on the route of an old railway, the route is moderately flat – though (according to Garmin) nowhere near as flat as reckoned. Weather was quite benign for a long run, about 7 C and cloudy. The route itself is largely hard-packed trail, with a few squelchy bits. Hywel, taking it easy on pace with his London training, came in at 1:44:35. Rob who's aiming for a half marathon a month in 2019 banked his first of the year and finished in 2:01:26. Rob is no doubt going to break the 2 hour barrier this year.
With limited races, attendance at parkrun was high with the 'doing the double' draw on New Year's Day proving popular.
Vic Belshaw ran the furthest from home at Ganavan Sands in Oban with a run with a view to Mull and Lismore out to sea. Ben Cruachan unfortunately was in cloud at the top of the course. It felt a tough one on the day despite only 250' of ascent (two climbs and undulating). I was given a run for my money to come in second. The position changed quite a few times and I kept retaking it on the climbs. My opponent finally broke in the final 1000m so much for the holiday Vic.
Parkrun highlights closer to home include course PBs for Jon Whitehead Wepre 28:26 and Elen Baugh Chester 25:56 on New Year's Day as they along with David Baugh, Tony Benton and Katy Baugh did the double – Wepre at 9am and Chester at 10:30. Also at Chester Shaun Hughes set his parkrun as he came 4th in 17:54.
Results
Dash to the Devils Chair Duncan Jones 32:03
Jubilee Plunge Tony Wood 13th 13:48, Katy Baugh 32nd & 3rd Lady 15:18, Ruari Benton 40th 16:19, Menai Baugh 54th & 1st VF60 18:15, Dawn Marshall 72nd 24:33
North Wales Cross-Country Championships 2019 Men under 60 Shaun Hughes 11th 36:01, Vic Belshaw 35th &1st VM55 41:02, Glen Price 36th 41:13, Tony Wood 37th 41:16, David Baugh 42nd & 3rd VM5543:33, Mat Jones 44th 44:10, Duncan Jones 50th 46:34, Tony Benton 51st 46:42 Men 60-65 Fred Jones 6th 37:58 Men 65+ Bob Neale 5th 28:16 Women Rhian Pierce 7th & 3rd VF35 21:49, Elen Baugh 23rd 25:07, Melina Morris 27th & 3rd VF45 25:56, Katy Baugh 29th 26:05, Sali Powell 38th 27:22, Mari Williams 39th 27:48, Menai Baugh 41st &1st VF60 28:28, Dawn Marshall 53rd 31:51
The Wirral Way Half Marathon Hywel Roberts 1:44:35, Rob Parry 2:01:26
Parkrun
22/12 Bushy Sian Pritchard 26:52 Ganavan Sands Vic Belshaw 2nd 20:28 Conwy David Baugh 26th 21:21, Phil Hayes 71st 24:21, Elen Baugh 85th & 10th Lady 25:01, Menai Baugh 102nd & 18th Lady 26:29, Joe Welch 206th 32:44
29/12 Conwy David Baugh 23rd 21:10, Duncan Jones 59th 23:20, Elen Baugh 85th & 15th Lady 24:40, Jon Whitehead 95th 25:34, Sarah Bayliss 326th 45:03 Wepre Vic Belshaw 6th 21:49, Emma Collins 20th & 2nd Lady 23:59
01/01 Wepre David Baugh 16th 22:29, Tony Benton 55th 24:56, Elen Baugh 104th & 16th Lady 27:15, Katy Baugh 105th & 17th Lady 27:15, Jon Whitehead 128th PB 28:26 Chester Shaun Hughes 4th PB 17:54, David Baugh 29th 21:26, Tony Benton 112th 24:30, Paul Goffey 162nd 25:42, Elen Baugh 172nd & 30th Lady PB 25:56, Katy Baugh 173rd & 31st Lady 25:56, Jon Whitehead 209th 27:11