In the Denbigh Harriers monthly Summer handicap race this week numbers were a little depleted possibly due to the torrential rain. However 24 Harriers ventured out in the rain to run on the 3 mile course over soggy fields around Denbigh. The first three runners to finish were 1st Roger Snaith, 2nd Diane Roberts and 3rd Tony Wood.
On Wednesday Tony Wood raced in a fell race called The Beast which is actually a 4.5 mile race in Maeshafn near Llanferres that climbs 1,200',  mostly in the first mile. Tony ran the race and finished strongly in 40:34 improving on his previous best for this race.
Just 2 Harriers at the first race of the Deestriders off road series. Duncan Jones and Dawn Marshall pulled on their green vests for this mixed terrain race. A couple of laps of the cricket pitch followed by a couple of cross-country laps before finishing with a reverse lap of the cricket pitch, this race has everything – long grass, narrow overtaking places and though there isn't much climb, there is a lovely steep bank to get up – twice! Good runs for both Duncan Jones and Dawn Marshall in 35:40 and 45:40 respectively though the official results aren't out yet. Both found it slower underfoot than previously on this course.
Parkrun Results
Kingston Parkrun
153rd Sian PRITCHARD 00:26:0
Conwy Parkrun
29th Emma COLLINS 00:22:1
Roger Snaith followed by Dianne Roberts in the monthly handicap series
Tony Wood in the latter stages on the Beast Fell Race
Dawn Marshall  in the Deestriders off road series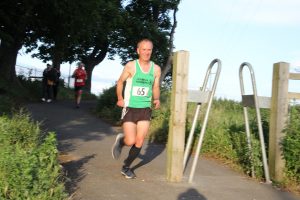 Duncan Jones in the Deestriders off road series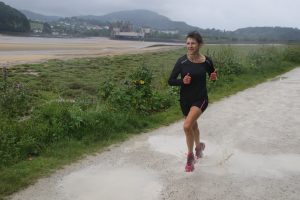 Emma Collins in the Conwy Parkrun