Tuesday night was the penultimate race of the Tuesday Evening Fell Race Series and Menai Baugh was there in her bid to retain her age category title. This 4.5 mile  race was at Abergwyngregyn – starting up a grassy hill with over 800 ft of steep climb within the first mile. The route follows a grassy track to Aber Falls followed by another 400ft climb before the long mile and a half descent down to the finish. Menai's time was  50 minutes 11 seconds, securing the first F60 prize and a two minute improvement on last year's time.
Saturday saw Tony Wood  taking on the 20k Foel Fras fell race with 1077m of climbing.  Although the race is named after on hill it actually takes you up another substantial hill Drum (770 m) before getting to Foel Fras. After the stunning views from Foel Fras the race then climbs Moel Gweliian before heading back to the finish over three more hills; yr Arya, Drosgl and Moel Wnion.  This mountain journey took Tony a creditable 2h23'20.
Also at the weekend Sioned Lloyd ran the Coed y Brenin Trail Half Marathon which climbs over 2,000 feet on rough paths and track having only decided to do it two weeks ago. Sioned still managed to knock 11 mins off her last course personal best finishing in  2.21.
With many local Parkruns called off because of the weather on Saturday the Harriers had limited choices for participation. This did not stop Mari Williams from achieving a great personal best in Cardiff.
Cardiff Parkrun
153rd    Mari WILLIAMS    00:22:51 PB
Conwy Parkrun
11th    Victor BELSHAW    00:20:34
15th    David BAUGH    00:20:54
60th    Katy BAUGH    00:23:51
64th    Elen BAUGH    00:24:0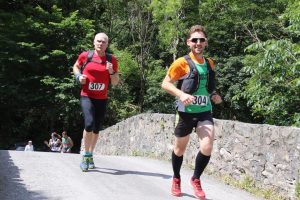 Tony Wood – Foel Fras
Menai Baugh – Abergwyngregyn