It was a very busy week of running for Denbigh Harriers starting with the final race in the Tuesday Evening Fell Race Series held in Llanberis. It was a short, fast 3 km fell race ascending and descending fastly, finishing up -hill. Menai Baugh ran the race more than a minute faster than last year in 20 minutes 15 secs.,knocking 54 secs off the F60 record and winning the F60 category and the F60 series -winning her age category in 7 of the 12 races
Saturday saw Victoria Whitehead chose a tough mountain race for her return to racing after months of injury. This year's Moel Hebog mountain race was a counter in the Welsh Fell Running Championships series and is a very challenging race ascending 2,400ft, for two and a half miles from Beddgelert up a steep. rocky track where, nearer the  top of the ridge hands and feet are needed to climb up the rocks .The descent is very steep –  tricky and technical with potential for serious trips and falls. Victoria finished in a very decent time of 1 hour 30 minutes, followed by Menai Baugh in her second age category win and mountain race of the week, finishing in 1 hour 35 minutes and winning the F60 age- category prize.
On Sunday three. Harriers took on the 10 miles Moel Y Gamelin Fell Race which climbs 2300'.  Mari Williams had a great race and won the first senior woman prize in 1 hour 52 minutes with Duncan Jones and Katy Baugh also competing in the race.
On Sunday twelve Harriers competed in the Runfest Rhyl races over 5k, 10k and Half Marathon distance. The warm weather and strong breeze had an effect on performances especially in the longer distances. The 5k saw prizes for Mel Morris, Elen Baugh, Menai Baugh and Caroline Dawe plus a personal best for Caroline.
5K results
38th Mel Morris 21.32 North Wales Championships 3rd F45
44th Elen Baugh 22.53 1st Senior Woman
56th Menai Baugh 25.19 North Wales Championships 1st F60
71st Caroline Dawe 27.25 North Wales Championships 2nd Senior Woman PB
The 10k saw a season's best time for Dawn Marshall and a personal best for Jess Jones
10k results
84th Helen Davies 58.05
85th Dawn Marshall 58.17 Season Best
98th Julie Roberts 59.04
146th Jess Jones 69.21 Personal Best
In the Half Marathon Mat Jones had a great run despite managing to get lost in Prestatyn to finish in 13th place. Both Ian Jones and Rob Parry felt the conditions but finished in good form.
13th Mat Jones 1:37:32
61st Ian Jones 1:56:32
92nd Rob Parry 2:13:06
Paul Goffey ran the Penny Lane Striders 10k on Sunday. This is an out and back route along the Mersey with a little detour into Otterspool park. Paul got round in 48:58, some way off what he was hoping for.
Parkrun result:
Conwy Parkrun
85th Joseph WELCH 00:25:03
Bodelwyddan Castle Parkrun
13 thDavid BAUGH 00:23:39
58th John Llewelyn THOMAS 00:37:08
Mari Williams winning 1st Senior Woman on Moel y Gamelin
Denbigh Harriers at Runfest Rhyl
Menai Baugh on Moel Hebog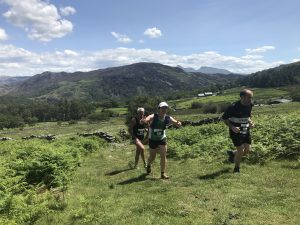 Victoria Whitehead on Moel Hebog
Jess Jones on the way to her 10k Personal Best.