Half marathon win for Shaun Hughes as Mari Jones wins the her first race
First race of the week was the club Handicap on Tuesday night where the weather was definitely improving in that it didn't rain properly to add to the degree of mud on the course, although the wind and cloud made the temperature barely in double figures. It was remarkable how many of those with recent long races in their legs still managed to get close to their handicaps and it was tight with an avalanche of people coming down the finishing straight with positions changing in the last few metres.
Congratulations to new runner Mari Jones for a marvellous improvement (5 minutes faster than last month), and to Rob Parry who's fast half marathon at Chester two days previously should have flattened him more than it did. Also faring well after a long weekend race was Menai Baugh coming in 30 seconds faster than predicted. Ron Birch, 79 years young, brought the runners in.
Just 3 Harriers racing out on the fells this weekend, as many of our fell runners were out on training runs for the Vegan 3000s. Jon Fleming raced in the heat at Ras y Moelwyn on Saturday finishing just under 2 hours and 43rd out of a field of 97.
In Shropshire on Sunday, Emma Collins and Vic Belshaw raced the South Mynd Tour, an AL fell race of 14.5 miles with 3500 ft elevation and plenty of route choices, making for a bit of sport. There was a small field of 39, with Emma and Vic finished mid field in 19th 3:01:44 and 22nd 3:01:56 respectively. A lovely though hot race with stunning scenery saw Emma win her category VF55 and Vic place 3rd in his VM55.
The heat continued on Sunday with 5 Harriers turn out in what was already a scorcher, even at the 10am start, for the annual 2 Lakes Trail Half and 10k. The routes are a scenic combination of tracks, paths and climbs well above the 300m contour throughout and taking in the 2 reservoirs of Alwen and Brenig. The heat made them both even tougher races.
In the half  Shaun Hughes continued his scorching form; winning in a time of 1.27.04 with club mate Tony Wood not far behind in 5th, 3rd SM and a time of 1.40.03 Mel Morris still with the London marathon and Tuesday's handicap in her legs came in as 5th VF40, 10th female, and 27th overall in a time of 2.03.09.
In the 10k the Harriers shone with Duncan Jones, in his first race back from injury, coming in 3rd overall, 2nd Male and 1st VM50 in a time of 50:30. Hot on his heels was Fred Jones who came in 3rd Male and first VM60 in a time of 50:57.
Also on Sunday 8 harriers made the short journey over the horseshoe pass to take part in the Bespoke Llangollen Trail 10km where the temperatures were no cooler than round the Brenig & Alwen. First harrier home was Sali Powell in an excellent time of 56.44, followed by Roger Snaith in 1.02.02 Hannah McDonnell 1.03.19. Also on the course were Lisa Dafydd 1.04.13 Nicola Field 1.06.16 Nicola Williams 1.09.53 Kathryn Snaith 1.11.00 Sharon Griffiths 1.11.01. Fantastic times for all our runners on this tough course.
We round up the week with Parkrun. PBs galore at Conwy with Phil Hayes getting a PB of 20:26 after his half marathon PB at Chester last week. Sarah Bayliss, returning strongly from injury, also PB'd with a time of 25:15 and not far behind was Jeff Jones also with a PB of 28:26. They were joined at Conwy by Vic Belshaw 6th in 19:39 and Bob Neale in 28:15. Tony Benton took third at Bere Island and sisters Katy & Elen Baugh raced Woodhouse Park, Elen, 24:15, just behind her PB with Katy, Wepre, 29:20 as she recovers from her first marathon at London 2 weeks ago.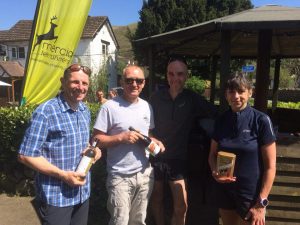 Shaun Hughes                     Vic Belshaw (2nd left), Emma Collins (right)
Results
Noel Morris Handicap Summer Series 1st Mari Jones 37:18 2nd Rob Parry 27:12 3rd Phil Hayes 21:574th Mel Morris 5th Menai Baugh 27:11 6th Duncan Jones 23:42 7th Sali Powell 25:49 8th Vic Belshaw 20:21 9th Katy Baugh 24:24 10th David Baugh 22:07 11th Tony Wood 19:10 12th Paul Jones 29:12 13th Shaun Hughes 18:47 14th Victoria Whhitehead 23:51 15th Glen Price 20:25 16th Fred Jones 24:26 17th Sharon Griffiths 35:26 18th Rhian Wyn Jones 30:37 19th Diane Roberts 37:41 20th Jeff Jones 33:19 21st Nicola Field 31:38 22nd Ron Birch 41:14
Ras y Moelwyn Jon Fleming 43rd
South Mynd Tour Emma Collins 19th, 1st VF55, 3:01:44, Vic Belshaw 22nd 3rd VM55, 3:01:56
2 Lakes Trail (provisional results) ½ marathon Shaun Hughes 1st 1:27:04, Tony Woods 5th 1:40:03, Mel Morris 27th & 10th Lady 2:03:09 10k Duncan Jones 2nd male, 3rd overall, 1st VM50 50:30, Fred Jones 3rd male, 4th overall, 1st VM60 50:57
Bespoke Llangollen Trial 10k Sali Powell 56:44, Roger Snaith 1:02:02, Hannah McDonnell 1:03:09, Lisa Dafydd 1:04:13, Nicola Field 1:06:16, Nicola Williams 1:09:53, Kathryn Snaith 1:11:00, Sharon Griffiths 1:11:01
Parkrun Woodhouse Moor Park Elen Baugh 21st female 24:15 Bere Island Tony Benton 3rd 22:33 Conwy Vic Belshaw 6th 19:39, Phil Hayes 10th PB 20:26, Sarah Bayliss 12th lady PB 25:15, Bob Neale 118th 28:15, Jeff Jones 122nd PB 28:26 Wepre Katy Baugh 13th lady 29:20