Harriers take category places at North Wales 5k Championships
Five Harriers turned out for the Ffrith 5k which was also a North Wales 5k Championship race. It was a beautiful sunny morning but there was a strong head wind after the turn around point. Philip Hayes was first Harrier home in 36th and 20:18, just missing out on a VM35 podium position but getting ever closer to his sub-20 target, smashing his recent parkrun PB by 8 seconds. He was followed by Tony Benton, 56th 21:26, running strongly, only one second slower than the last time he ran it 3 years ago and also finishing 4th in his VM55 category. Fred Jones ran a very competitive run to place 65th overall and was third VM60 in the North Wales Championships. Melina Morris was running her first ever 5k and secured second FV45 in the North Wales Championships coming in 73rd in 22:51. Menai Baugh, though last Harrier in, securing overall first position in her FV60 age category. 96th in 25:26, her fastest 5k time in 5 years.
Success continues to run through the Baugh family with Elen Baugh completing her first half marathon this week just a few weeks after sister Katy's marathon debut. Elen ran the Leeds Half Marathon in 1:54:28..
Also competing this weekend over the half marathon distance were Rob & Caroline Parry, running in one of their favourite races, the 'Road to the Isles' Half Marathon in the Western Highlands of Scotland, quite a hilly route, with approximately 900 feet of ascent. Conditions on the day were sunny, resulting in quite a bit of sunburn for both, and surprisingly warm with minimal wind. Both having been racing heavily this year as Caroline trains for her first half ironman, Rob completed the course in 2:19:05, Caroline. 2:34:59.
We round up the week with Parkrun. Sian Pritchard took to the starting line up at Bushy, finishing the course in 27:27, whilst Duncan Jones ran Shrewsbury finishing strongly in 22:20.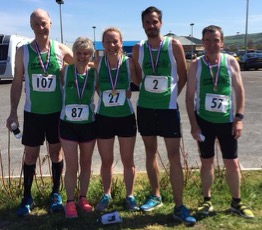 Left to Right: Tony Benton, Menai Baugh, Melina Morris, Philip Hayes, Fred Jones
Results
Ffrith 5k Philip Hayes 36th VM35 4th 20:18, Tony Benton 56th VM55 6th 21:26, Fred Jones 65th VM60 3rd 22:07, Melina Morris 73rd VF45 2nd 22:51, Menai Baugh 96th VF60 1st 25:26
North Wales Regional Championships at the Ffrith 5k Fred Jones VM60 3rd 22:07, Melina Morris 73rd VF45 2nd 22:51
Leeds Half Marathon, Elen Baugh 1:54:28
Road to the Isles Half Marathon Rob Parry 2:19:05, Caroline Parry 2:34:59
Parkrun Bushy Sian Pritchard 27:27, Shrewsbury Duncan Jones 22:20