1st sub 3 hour marathon for Joseph Welch whilst Shaun Hughes finishes in top 500 at London
With athletics hitting the headlines this weekend with the 2018 London Marathon, 7 Denbigh Harriers made the journey to the capital to compete with a world-class field. And regular readers of this report will already know Shaun Hughes lined up on that elite start line too having achieved qualification for the elite race with a previous sub 2hr 45 marathon, the qualifying time as a senior man. Joseph Welch, also joined him on the elite start line having previously achieved a 'Good for Age' qualification time.
Members Steve Gadd, Melina Morris, Katy Baugh, Billie-Jo Davies and Hawys Roberts also lined up in soaring temperatures – even harder after a winter of very cold training – with over 40,000 runners, racing in what was a first marathon and fundraiser for many.
It comes as no surprise then that Shaun Hughes was first Harrier home, completing the race in 2:48:48 and placing 378th in the race, 267th in his age category. Such a fantastic achievement for Shaun who's only 23 and never raced in London before but has such a sensible head and knows how to train and race. He's already looking forward to next year, citing the event as "a great experience with the crowd and support making it all worthwhile". There continues to be a bright future for this young man.
Joining Shaun as one of the first 1000 runners home was Joe Welch. Joe, 38, in his 9th marathon only had one goal yesterday – to run sub 3 hours, a goal he's been working on since Christmas 2015. After getting very close before, Joe was ready to admit defeat when wife, Jen, bought him a running book and more importantly told him she believed in him when he confessed he didn't think he'd ever run sub 3.
Joe's run London 3 times before, the last time in 2007, finishing then in 3 hours 22. In spite of the heat, all those early morning training runs round the roads of Nantglyn paid off with Joe not just stealing a sub 3 hour time, he smashed his target and previous PB by 6 mins finishing in 2:55:40 to place 711th in the race and 480th in his category. Sometimes it's the belief of others in you that lead you to greatness.
But the spirit of London is not just about the elite runners, it's everyone who lines up in a club vest, charity vest, or just looking to see if they can race London. Coming 3rd home for the club was Steve Gadd finishing in the top 10% of runners in 3517th and 3:24:25, another incredible time and achievement for Steve.
Next came our ladies – Melina Morris, Katy Baugh, Billie-Jo Davies and Hawys Roberts who we've talked about again before as we've followed their progress as they've trained for their first marathon, often training and racing together benefitting from that support and knowing someone else in their position. All these ladies were also fundraising and to date have raised nearly £10,000 for local and national charities.
Mel was first home in 4:29:14 15737th and 596th in her category. Katy, who won Denbigh Harriers club place to compete at London, finished in 4:42:17, 18743th overall and 2908th in her category. She was followed closely by Billie-Jo Davies in 4:47:17 19949th and 3174th in the category. Hawys Roberts, who only started running 6 months ago, finished in 5:37:59, 30826th and 5885th in her category. The achievements of all our Harriers in London cannot be underestimated given the heat, pressure and the crowd support, a big well done to them all.
Sunday also saw a long-distance local race take place on the Clwydian Hills. At distances of 20 and 10 miles, with nearly 5000ft and over 2500ft ascent respectively, this was a no less daunting race than London. In the 20 mile race both the female and male races were hotly contested with Ceri Belshaw pipped to post and taking 2nd place by 1 minute in 3:51:13. Ceri was 6th overall and beat the 3rd lady by nearly 30 minutes. 2nd overall and pipped to the first place by 2 mins 30 seconds was Tony Wood in 3:19:58, over 20 minutes ahead of the 3rd man.
In the Clwydian 10 mile, Jon Fleming was 6th overall in 1:35:50, Sioned Griffiths 23rd and 3rd Open Lady in 1:59:16. 28th was Anwen Brown 2:05:56 with Kate Wilson 2:11:21 and Llyr Jones 2:12:33, 35th and 36th respectively following closely behind. Vicky Cortvriend took 2nd VF60 in 63rd and 2:54:58.
3 fell races and parkrun complete the races for the week. On Tuesday, two Harriers turned out for the Joe Brown Midweek Fell Series at St. David's College on a sunny and mild Spring evening. The 3.5 mile course ascended  771ft through woods to a small hill behind Llandudno with a steep, fast descent to the finish. Victoria Whitehead finished 2nd F40 in 59th out of 125 runners in a time of 33:50 and Menai Baugh continues her category wins finishing 1st F60 93rd 38:36.
On Wednesday, Vic Belshaw ventured over the border to Keswick for the Lords Seat Evening Fell Race hosted by the prestigious Keswick AC competing against some of the UK's best fell running clubs on a glorious evening. In a fast and furious 5 mile race with 1,500ft of ascent taking in the tops of Barf and Lords Seat, ever modest Vic managed to take the vet over 50 category but what a battle with the lead changing several times  – the next five V50s came within 60s of his finishing time of 41:06.
On Saturday 2 Harriers raced at Moel Wnion Fell Race with both securing age category wins for Denbigh in the ladies and men's over 50 category today. To say it was hot ascending Moel Wnion would have been an understatement but a lovely atmosphere, a very friendly race and a scenic course over 4.7 miles with 1,772ft of ascent saw Vic Belshaw storm home in 7th and second category win of the week as 1st M50 with Emma Collins in 29th and 1st F50.
Harriers were on course at 4 parkruns this weekend. In London to support daughter Katy in the marathon, David and Menai Baugh ran very creditable times of 20:26 and 26:01 respectively at Burgess both finishing 57th in their gender. In both cases, a Parkrun PB. Elsewhere in the South East, Sian Pritchard did Kingston Parkrun in 28 minutes dead on. At Chester, Paul Goffey was 15 seconds away from his PB with 22:32, finishing in 30th place. Whilst closer to home at Conwy, Philip Hayes was 17th over the finish line with a time of 20:59 in his first race since the Paris marathon. Julie Roberts showed improvement from a month ago, taking nearly a minute from the last time she ran with a finish time of 29:51.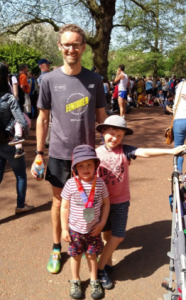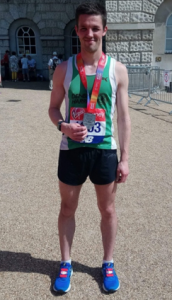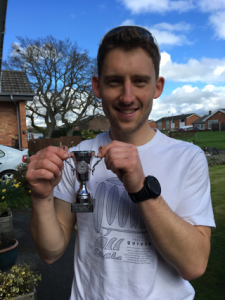 Results
London Marathon Shaun Hughes 378th 2:48:48, Joseph Welch 711th 2:55:40, Steve Gadd 3517th 3:24:25, Melina Morris 15737th 4:29:14, Katy Baugh 18743th 4:42:17, Billie-Jo Davies 19949th 4:47:17, Hawys Roberts 30826th 5:37:59
Clwydian 20 miler Tony Wood 2nd 3:19:58, Ceri Belshaw 6th & 2nd Lady 3:51:13 10 miler Jon Fleming 6th 1:35:50, Sioned Griffiths 23rd & 3rd Senior Lady 1:59:16, Anwen Brown 28th 2:05:56, Kate Wilson 35th 2:11:21, Llyr Jones 36th 2:12:33, Vicky Cortvriend 63rd & 2nd VF60 2:54:58
Joe Brown Midweek Fell Series – St David's Victoria Whitehead 49th & 2nd VF40 33:50, Menai Baugh 93rd & 1st VF60
Lord's Seat Fell Race Vic Belshaw 1st VM50 41:06
Moel Wnion Fell Race Vic Belshaw 7th & 1st VM50, Emma Collins 29th & 1st VF50
Parkrun Burgess David Baugh 62nd 20:26, Menai Baugh 259th 26:01 Kingston Sian Pritchard 141th 28:00 Chester Paul Goffey 30th 22:32 Conwy Philip Hayes 17th 20:59, Julie Roberts 161th  29:51