It's first for Craig Jones at Hawarden Estate Trail 5k whilst Elen Baugh races her 100th Parkrun
Sunday's inaugural Hawarden Trail 5K took place this Sunday with two Harriers taking to the start line with Craig Jones out to win it with an opening first kilometre in under 3m30 despite the corrugated ground and fierce little hill. Unfortunately the course had to be changed at the last minute so the 5k lead runners hit three stiles on the descent through the wood and caught all the back-markers in the 10K race which meant for long queues and ankle breaking stuff getting past them on the narrow cart-track on the way uphill out of the wood. Exciting, though, until the constant jinking, acceleration and hitting bushes took its toll on the respiratory system. VO2 max where were you?? It was a bit short of 5K too but nobody was complaining as we crawled round the second lap wishing for the finish. Craig got his first outright win in 20:30 and Chris Baldwin was 7th and 1st VM60 (and 1st VM50 for that matter) in 27:26.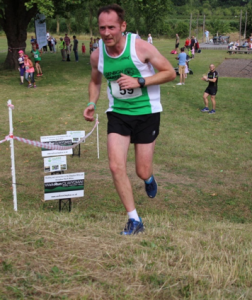 Craig finishing hard up the final mound.
The toughest race of the week was also on Sunday with 6 harriers heading over to Llanberis to run the Scott Snowdonia Trail Marathon and Half Marathon. There are usually a few Harriers on the course with many running this year for the second or third time alongside those making their debut. Taking on the toughie, not just 26.2 miles of running but 1685mtrs climb too, was Ceri Belshaw. Ceri who's previously raced the Snowdonia marathon but much prefers the hills, finished in 5 hrs 43 mins and was 18th lady overall.
Five Harriers also raced the half marathon. First harrier home Emma Collins, racing this race for the 2nd time, finished in a great time of 2 hrs 37 mins, nearly 5 mins quicker than her previous time and taking 3rd VF50. Second home was Daniel Schraibman in a time of 3 hrs 11 mins, his third time racing this event. Next was Anwen Brown in a time of 3 hrs 16mins and a massive 17 minutes faster than last year. All her training is clearly paying off. David Spencer,  3 hrs 34 mins and Roger Snaith, 3 hrs 46 mins brought the Harriers home, both taking to Snowdon for their first time at this race.
Saturday started as always with Parkrun. 4 Harriers made the short trip to Conwy with Elen Baugh leading the Harriers home in 25:09 and 7th lady as she completed her 100th Parkrun. She was supported around the course by Dad David Baugh 25:10 with Jeff Jones 28:08 and Rob Parry 29:01 also racing.
In his second race of the day David Baugh and wife Menai ran the Tal y Fan Fell race starting from the Rowen carnival field and then completing an 8.9 mile loop climbing 2,300 foot straight up and over Tal y Fan towards Penmaenmawr for 3 miles before heading back towards the Conwy valley. It was a hot sunny afternoon with only a slight breeze on the top of Tal y Fan to cool the runners down resulting in a few drop outs. Menai finished as first VF60 in a time of 2.05 (45th overall) with David finishing 20 minutes ahead of her in 30th place.
Earlier in the week, it was great to see Rhian Pierce back racing after a long spell out of running from injury. Settling quickly back into fine form, Rhian took 3rd lady at the Druid Fell Race.
Results
Druid Fell Race Rhian Pierce 3rd Lady 
Tal y Fan Fell Race David Baugh 30th 1hr 45, Menai Baugh 45th & 1st VF60 2hrs 5
Hawarden Estate 5k Trail Race Craig Jones 1st 20:30, Chris Baldwin 7th & 1st VM60 27:26
Scott Snowdonia Trail Marathon Full Ceri Belshaw 5:43:38 Half Emma Collins 3rd VF50 2:37:58, Dan Schraibman 3:11:47, Anwen Brown 3:16:27, David Spencer 3:34:40, Roger Snaith 3:46:48
Parkrun Elen Baugh 100th Parkrun completed & 7th lady 25:09, David Baugh 25:10 Jeff Jones 28:08 Rob Parry 29:01