Happy 80th Birthday Ron Birch as the Harriers have a busy week racing across all terrains and disciplines
We start our round up with the Noel Morris Handicap Summer Series whilst celebrating the 80th birthday of one of our founder members. Ron Birch turned 80 on Tuesday and celebrated by racing the penultimate race of the 2018 series in perfect conditions – 16C and sunny with little wind, short grass and dry ground. Diane Roberts made a very good effort to win this one but was caught with only 200m to go and finished 5th. It gave her points total for the series a considerable boost though, and continued her challenge for the title.
Classy runs from Emma Collins, Tony Wood (despite seized quads from racing Ben Nevis the previous weekend), and Joe Welch finishing only 36 seconds outside Shaun Hughes record, but all were overshadowed by birthday boy Ron who can be excused for not being quite as fast as last month when he was only 79. Of those with 5 races completed, Tony Benton is comfortably in the lead with Phil Hayes second though Diane has another 19th position to drop, so there is all to play for in October.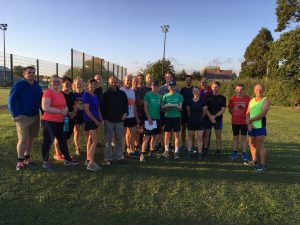 On Wednesday afternoon, new member Mark Jones competed in the Police Sport UK National 10 mile race. The race is hosted in a different part of the UK each year with this yeasrs race hosted by North Wales Police. Mark completed the 10 mile through in Bangor in 1:25:31.
Fresh off the back of his OCC race at the Ultra Trail Mont Blanc Chamonix last week, David Baugh updated the Harriers that to continue their Alps adventure he and wife Menai were attempting the 170k (106miles) Ultra Tour of Monte Rosa on Wednesday. This is a 4 day stage race starting in Switzerland crossing the Alps under the Matterhorn into Italy and eventually back into Switzerland to the finish via Saas Fee. This includes 11300m (37,000') of ascent. The intention to run this together and "enjoy" this as a holiday.
Already sounding like one of the toughest races anyone at the club has ever attempted, day 1 saw the route lengthened from 37 to 43k due to rockfall including unforgettable climbs, tunnels and via ferrata's. Day 2 took in 2 major mountain passes, serious scrambling and a glacier with both in great form beating the cutoffs at the checkpoints by a huge margin. Day 3 started with a 1400m climb in 10k over a high path – a very steep climb. 30k and 2000m ascent in the afternoon which David completed solo, billing it as one of the gruelling afternoon's running he's ever experienced and he should know.
Day and Stage 4 saw the normal 6am start with David & Menai heading up to Mount Moro and climbing steeply 1500m in 6.8k to a checkpoint and a scramble over icy rock to the summit using ropes and pegs, both loving the icy descent to Saas Fee 18k away overtaking masses of runners. Menai finished her running there and David took the hard run back to where the race started on Wednesday. There were some superb paths to run on but also boulder fields, tunnels and some precipitous roped sections – oh and yes a ladder. For David a 45.8 k day with 9000' of climbing finishing a fantastic 48th place 9 hours 38mins for the Stage. Over the 4 days, David ran for 41 hours and 36 mins, Menai 33 hours and 7 mins. We're not sure everyone would agree this classes as a "holiday" but we're all incredibly impressed by them.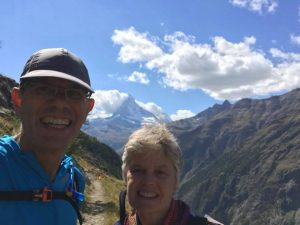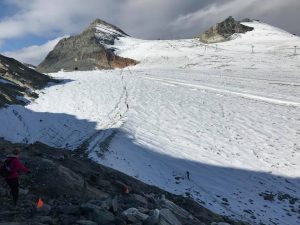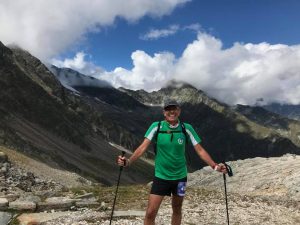 Back to the UK and "normal" races then and it was a busy weekend. Tony Benton ran the last of the Deestriders Off Road Summer Series on Friday night taking 2nd in his VM55 category for the series. Emma Collins didn't race but had already wrapped up 1st in her VF55 category with 3 strong races.
2 half marathons on Sunday. The televised and prestigious Great North Run alongside the scenic Lake Vyrnwy Half Marathon. Making the trip to the North East and lining up on the start list was Katherine Edwards, delighted to make it to the race and tick it off her bucket list. Chip time 2:24:16. At Lake Vyrnwy the weather was wet and warm with 5 runners taking to the start line, many of them using this as part of their training programmes for future events.
First Harrier home and 21st overall was Shaun Hughes, equalling his half marathon PB in 67:27 as he prepares for next month's Chester Marathon. Next home was Steve Gadd, also in training for an October Marathon – the slightly hillier Snowdonia Marathon – delighted with his 3rd sub 90 min half this year and finishing in 1:29:07 and 18th VM45. Ian Jones was next 31st VM55 in 1:52:42 delighted with his time as he continues to train for next month's Cardiff Half Marathon. The only lady Harrier on the field was Lisa Dafydd finishing 87th SF and smashing her previous best by 4 mins with a new PB of 2:08:22. Robert Parry completed the quintet in 2:09:59.
Over on the hills, Ceri Belshaw chose 2 disciplines rather than one completing the Conwy Mountain Marathon Duathlon and coming 6th & 2nd Lady in 3:00:55. Sticking to running and taking on Ras Cyrn Y Brain, the last of the NW Fell Series with 7 miles and 1200 ft were 6 Harriers racing in blustery but dry conditions. The race starts and finishes from the Ponderosa Cafe on the Horseshoe Pass has two climbs with the second seeming to go on forever. This race is balanced out with two fast descents, if you don't get held up in the single track section of course!
Vic Belshaw was first home in 15th and 57:18 taking  2nd in his VM55 category on the day but awaiting the final series results. Emma Collins was 32nd in 1:02:41 and 1st in her VF55 category. Mathew Jones was 39th in 1:04:30 enjoying another venture onto the fells and finding it less arduous though than his 15 miler on the Clwydians last week. Tony Benton took 50th in 1:07:56 in his 3rd race of the week. Great to see Victoria Whitehead back on her favourite terrain 62nd in 1:10:36 as using the race as a training run whilst husband Jon Whitehead brought the Harriers home in 72nd and a great time of 1:16:39.
As we get to Autumn, we're all looking forward to cross-country season starting. So what better way to get acclimatised than to get down and dirty at Tough Mudder. A great event promoting teamwork and achieving more than you think you can saw Harriers Anwen Brown, Hannah McDonnell, Caroline Parry, Alaw Evans, Claire Spencer, Mari Williams, Sali Powell and Nicola Field have a fantastic day out in the mud!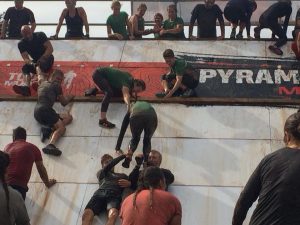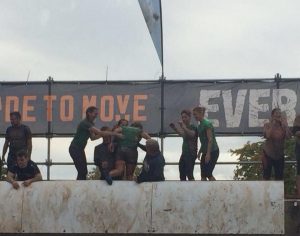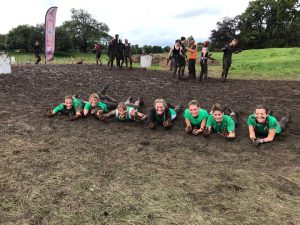 As usual we finish with Parkrun. At Bodelwyddan Castle Parkrun only on its 4th week but proving a big draw for the Harriers, the first taste of autumn rain and a much smaller field than previously made for bigger gaps and more individual racing. Ceri Belshaw (12th) looked altogether meaner than last week as she did 23:29 and lopped nearly 90 seconds off her PB. That is impressive considering that almost everyone else who has done this course before was slower. Phil Hayes was quicker too, getting a taste of what it is like to be at the front in 3rd with 21:33. Duncan Jones and Chris Baldwin were close together on the first lap but Duncan cruised home in 17th  and 24:48 with Chris dropping back to 22nd 25m52. Next in was new member Chris Davies 31st in 27m52 on his very first parkrun, while Gwenan Johnson was taking it easy for 91st in 39m29.
Sarah Bayliss opted to travel to Newborough Parkrun finishing in a time of 26:37 which she's delighted with given the wet and windy conditions and loving the single lap course. Shame it's too far to go every week. Down in Kingston, Sian Pritchard was two minutes faster than last week in 28:30
Results
Noel Morris Handicap Summer Series 1st Joe Welch 18:06, Chris E (guest) 24:45, 2nd Arwel Jones 23:20, 3rd Tony Wood 18:52, 4th Ruari Benton 24:55, 5th Diane Roberts 33:58, 6th Ian Jones.24:34, 7th Ceri Belshaw 22:14, 8th Emma Collins 21:46, 9th Tony Benton 21:57, 10th Bob Neale 25:01, 11th Phil Hayes 20:33, 12th Fred Jones.23:50, 13th Elen Baugh 25:41, 14th Vic Belshaw 20:12, 15th Ron Birch 35:16, 16th Sarah Bayliss, 26:32, 17th Mari Jones 36:42
PSUK National 10 mile Road Race Mark Jones 1:25:31
Ultra Tour Monte Rosa 170k 4 stage Mountain Race David Baugh 48th 41:36:20, Menai Baugh Ret. Saas Fee 33:07:17
Deestriders Off Road Summer Series Emma Collins 1st VF55 ,Tony Benton 2nd VM55 for the Series 
Lake Vyrnwy Half Marathon Shaun Hughes 21st 1:16:27, Steve Gadd 135th & 18th VM45 1:29:07, Ian Jones 578th & 31st VM55 1:52:42, Lisa Dafydd 905th & 87th SF PB 2:08:22, Robert Parry 915th & 113st MF45 2:09:59
Great North Run Katherine Edwards 2:24:16
Conwy Mountain Marathon Duathlon Ceri Belshaw 6th & 2nd Lady 3:00:55
Ras Cryn y Brain Fell Race Vic Belshaw 15th & 2nd VM55* 57:18, Emma Collins 32nd & 1st VF55 62:41, Mat Jones 39th 64:30, Tony Benton 50th 67:56, Victoria Whitehead 62nd 70:36, Jon Whitehead 72nd 76:39   *awaiting final results
Tough Mudder North West Finishers Anwen Brown, Hannah McDonnell, Caroline Parry, Alaw Evans, Claire Spencer, Mari Williams, Sali Powell, Nicola Field
Parkrun Kingston Sian Pritchard 52nd Lady 28:30 Newborough Forest Sarah Bayliss 19th & 9th Lady 26:37 Bodelwyddan Castle Philip Hayes 3rd 21:33, Ceri Belshaw 12th & 2nd Lady 23:29, Duncan Jones 17th 24:48, Chris Baldwin 22nd 25:52, Chris Davies 31st 27:52, Gwenan Johnson 91st & 45th Lady 39:29