This weekend saw two British Championship races in North Wales with runners from all over the UK the UK coming to test themselves against the elements and best runners in the country. Both races were organised to limit indoor gathering and encouraged social distancing in line with health guidance.  
Three Harriers ran in the British Masters Cross Country Championships on Saturday, a national event which was held locally on the Rhug Estate Corwen. The weather was dry and warm albeit windy on the return leg with conditions under-foot muddy but not as wet as expected given the recent storms and rain. The ever improving Melina Morris ran an exceptional race, finishing 26th overall, 20th Female and 4th Female over 45 in a time of 27 mins 22 secs. Fred Jones, running in the same race finished in an admirable  48th position in a time of  29 mins 48 secs. and was very pleased with his overall 6th position in his M65 age category. Menai Baugh was 77th and 7th F 60 finishing in a time of  33mins 42 secs  Many thanks to Prestatyn Running Club for expertly organising this high profile, national race.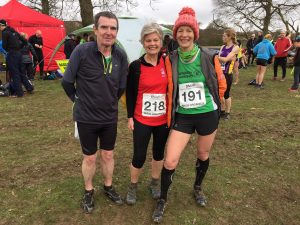 Not far away, at the same time,  in Llanuwchlyn, near Bala, two Denbigh Harriers were part of a very large field for the first of the British Fell Running Championship races with runners coming from all corners of the UK for this unique gathering. The race was a 10.6 mile race climbing 3,100' to the summit of Aran Fawddwy in wet conditions with the runners encountering snow patches and ice on the rocky path to the summit. With all the recent rain and melting snow the course was treacherous resulting in multiple slips and falls for both runners, luckily no serious damage was done to either runner. Vic Belshaw was the first Harrier home in 2hrs 8m and David Baugh finished in 2hrs 13m. Of the 36 entries in their M60 age group 29 finished the race with Vic finishing 8th and David finishing 11th.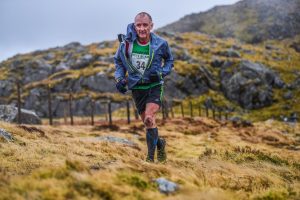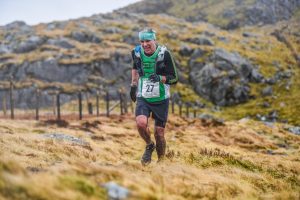 Three Denbigh Harriers made the early start journey over the border race in the Shrewsbury 10K. This was not  the easiest of 10k races but well supported by runners and spectators alike even under the current health restrictions. 
Results: 
Ian Jones. 54.25
Julie Roberts. 1 hr 26 sec
Jess Jones. 1hr 10min 45sec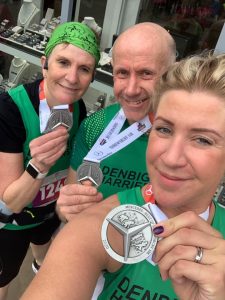 Parkruns
Kingston Parkrun
197th Sian PRITCHARD 00:29:37
Conwy Parkrun
136th Ceri JONES 00:28:02
Wepre Parkrun
24th Victoria WHITEHEAD 00:25:33
Nova Prestatyn Parkrun
9th Katy BAUGH 00:21:48 Personal Best 1st Lady
21st Elen BAUGH 00:24:19
Greenfield Valley Parkrun
118 John Llewelyn THOMAS 00:44:23