Sarah Bayliss becomes VF50 Wales Duathlon Sprint Champion, whilst Victoria Whitehead and Menai Baugh become North Wales 5 Mile Road Champions for VF45 and VF60 categories respectively
If you thought it was quiet in Denbigh on Sunday and there were less runners on the streets than usual, well there was a reason for that, 29 members of Denbigh Harriers headed along the coast to the Abergele 5 Mile Road Race. This relatively flat fast 5 mile race along the cycle path out towards Llandulas from Pensarn always welcomes a good field and has been welcoming Denbigh Harriers since the club was formed and raced this as their first ever road race as a club in 1991. Fast forward 27 years and the Harriers team spirit once again made itself felt with 29 of the 200 runners Denbigh Harriers with no one leaving until all runners were safely home. The race also hosted the North Wales 5 Mile Championships. With a strict cut off for entry and eligibility, the prizes are awarded to the fastest Welsh runners on the day.
Before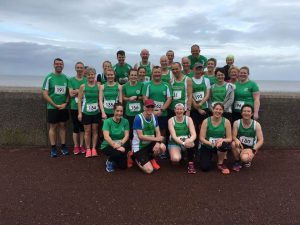 Recently back to running and racing Vic Belshaw came home in 38th and 2nd VM55 with a season's best of 32:04 with David Baugh shortly behind him in 50th and 4th VM55 also with a season's best in 33:33. David also picked up the silver medal in the North Wales 5 Mile Championships VM55.
In a close race for positions for the next 3 Harriers home, Tony Benton finished in 76th and 36:07 with a bronze in the North Wales 5 Mile Championships VM55 taking the lead from Duncan Jones 82nd who finished in an equal season's best of 36:35 followed by Victoria Whitehead. It's fantastic to see Victoria back to form coming 83rd  and  2nd VF45 and being crowned North Wales 5 Mile Champion VF45 with a personal best by over 3 minutes in 36:46.
6th Harrier home and first time at this distance was Hywel Roberts 89th 37:57 who was jostling for position all the way round with Ian Jones who got a personal best by nearly 2 minutes to finish 91st in 38:05,  and just ahead of Fred Jones 92nd and 3rd VM60 in 38:11.
Halfway through the field Mel Morris was 100th and 4th VF45 and picking up the bronze North Wales 5 Mile Championships VF45 medal in 38:42 with Elen Baugh just behind in 102nd and 38:52, the first time at this distance for both these ladies. Bob Neale was 109th and 5th VM65 in a season's best of 39:06, with Chris Baldwin just behind in 111th and 5th VM60 also in a season's best of 39:14 and receiving a well-deserved bronze North Wales 5 Mile Championships medal.
First time at this distance for Jon Whitehead 126th in a super time of 41:03 followed by Menai Baugh 132nd as she continues to dominate her VF60 category finishing 1st VF60 and North Wales 5 Mile VF60 Champion with a personal best of 41:59, a minute and a half off her best as Menai shows no sign of slowing down. What a fantastic season Menai's having.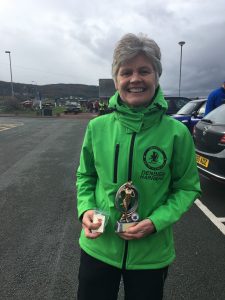 2nd Championship Gold for Menai Baugh inside a month
Anwen Brown racing well in her first time at this distance was 135th in 42:33 with Hannah McDonnell 148th and a personal best of 44:09 as she builds on her recent 10k PB. Dave Spencer, coming back from injury and using the course as a training run was happy to finish without any further niggles in 155th and 45:02. Dawn Marshall took 157th in a personal best of over 2 mins in 45:36 with Ruth Crowther in her first race in 160th and 46:00.
Andrew Morris building on last week's parkrun was 165th in 47:30 in his first time at this distance with Rhian Jones also first time at this distance 166th in 47:47. Sioned Roberts running with Teleri Roberts came in  in 178th 51:47 and 179th & 6th VF50 51:48 respectively, also their first races for the club with Sharon Griffiths not far behind in 181th and 52:18, her first time at this distance.
Eurian Mitchelmore made a fantastic debut, her first race and finishing 187th and 2nd VF55 in 54:40, just ahead of Diane Roberts 189th with a season's best of 54:56. Oldest club member Ron Birch also showing no signs of slowing down finished in 197th and 1st VM80 with a season's best of 57:16.
Jessica Jones and Mari Jones ran together both in their first time racing this distance and Mari, having been encouraged by other club members, made this her first ever race. Mari – you picked a tough one, but we're all so proud of you and for Jess running with you. And so finishing with a smile and in199th Jess & 200th Mari and a brilliant time of 58:25 you really worked hard for and deserved your medal and bottle of prosecco Mari.
After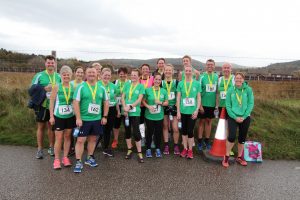 A further 3 harriers made the journey on Sunday over to the beautiful Coed y Brenin for the Individual and Team duathlons which also hosted the National Championships and came away with 3 wins. Based at the UK's Number 1 trail centre the duathlon puts runners and riders through a tough but rewarding blend of famous trails and routes including those previously closed to cyclists and runners. Competing individually or as a team there is a choice of distances – the sprint and the full.
In the individual sprint distance Sarah Bayliss came home as 1st VF50 and was declared Welsh Champion having completed a 5k run in 33:45, followed by a 15k bike ride in 59:28 and a further 1.8k run in 13:55, total time 1:50:17. Also in the sprint distance, Katy Baugh (running) and team mate Will (cycling) had a fantastic race coming 11th overall and 1st relay team in 5km Run 27:12 15k Bike 45:47 and 1.8k Run 10:21 with a total time of 1:24:31.
In the full distance of a 9k run, followed by a 28k ride and a further 5k run, Emma Collins (running) and partner Ashley were also 11th and first team home in a time of 2:46:20, their splits being 9k run 45:13, 28k ride 1:32:02, 5k run 27:48.
Parkrun on Saturday was a quiet affair. David Baugh was in Tøyen, Norway stretching his legs before his flight home, 7 seconds off his PB on this course in 21:49 whilst down in London Sian Pritchard ran Bushy in 27:05. A little closer to home Paul Goffey finished in 23:27 in Chester, whilst Glen Price had a gentle run at Erddig in 30:16. Also very close to their PB was Richard Debicki, just 1 second behind in fact at Bodelwyddan Castle in 22:22.
Results
Abergele 5 mile Vic Belshaw 38th & 2nd VM55 SB 32:04, David Baugh 50th & 4th VM55 SB 33:33, Tony Benton 76th & 7th VM55 36:07, Duncan Jones 82nd & 10th VM55 =SB 36:35, Victoria Whitehead 83rd & 2nd VF45 PB 36:46, Hywel Roberts 89th & SM 15th 37:57, Ian Jones 91st & 11th VF55 PB 38:05, Fred Jones 92nd & 3rd VM60 38:11, Mel Morris 100th & 4th VF45 38:42, Elen Baugh 102nd & 24th SF 38:52, Bob Neale 109th & 5th VM65 SB 39:06, Chris Baldwin 111th & 5th VM60 SB 39:14, Jon Whitehead 126th & 13th VM45 41:03, Menai Baugh 132nd & 1st VF60 PB 41:59, Anwen Brown 135th & 7th VF40 42:33, Hannah McDonnell 148th & 13th SF PB 44:09, Dave Spencer 155th & 14th VM45 45:02, Dawn Marshall 157th & 11th VF40 PB 45:36, Ruth Crowther 160th & 11th VF45 46:00, Andrew Morris 165th & 14th VM40 47:30, Rhian Jones 166th & 13th VF40 47:47, Sioned Roberts 178th & 15th SF 51:47, Teleri Roberts 179th & 6th VF50 51:48, Sharon Griffiths 181th & 13th VF45 52:18, Eurian Mitchelmore 187th & 2nd VF55 54:40, Diane Roberts 189th & 14th VF45 SB 54:56, Ron Birch 197th & 1st VM80 SB 57:16, Jessica Jones 199th & 18th SF 58:25, Mari Jones 200th & 8th VF35 58:25
Coed y Brenin Duathlon Individual Sprint Sarah Bayliss 43rd, 5th Lady & 1st VF50 5km Run 33:45 15k Bike 59:28 1.8k Run 13:55  Total: 1:50:17 Team Sprint Katy Baugh (run) Will (bike) 11th & 1st relay team 5km Run 27:12 15k Bike 45:47 1.8k Run 10:21 Total: 1:24:31 Team Full Emma Collins (run) Ashley (bike) 11th & 1st relay team 9km Run 45:13 28k Bike 1:32:02 5k Run  27:48 Total 2:46:20
Parkrun Tøyen David Baugh 21:49 Bushy Sian Pritchard 27:05 Chester Paul Goffey 23:27 Erddig Glen Price 30:16 Bodelwyddan Castle Richard Debicki 22:22