Alaw Medi and Huw Williams show their strength in Snowdonia at the toughest road marathon in the UK
It was one of the highlights of the racing calendar this weekend, the Snowdonia Marathon Eryri. This epic 26.2mile race circumnavigating the Snowdon massif draws a big field, plenty of supporters on route and even gets its own show on S4C. And for those of you thinking, it's just a marathon, well there's a reason it gets billed as the one of the toughest road marathons – 838m/ 2749ft of climb.
For Alaw Evans, racing for the 2nd year in a row, there was unfinished business. Only 20 and Denbigh Harriers youngest member, Alaw was back on the course with lessons learnt from last year and a great summer of training and racing setting her up for another go at this great event. We all knew she'd smash it and smash it she did – 4:09:10 and an average pace of 9:30 – Alaw took over 38 mins off her run here last year. She was over the moon with her race and rightly so.
Also on the course and looking forward to see what he could do having raced here before, Huw Williams ran a fantastic race, with the temperatures having dropped and even hailstones at times, finishing in 4:21:35, also a PB of over 18 minutes. David Jones was hoping to take to the start line but had to withdraw so whilst the marathon distance wasn't on the cards this time, David ran the Porth Eirias 10k instead finishing in 25th and 46:06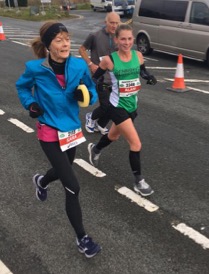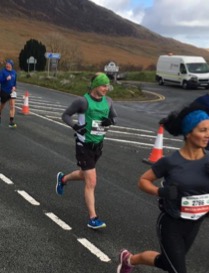 Alaw Evans & Huw Williams (in green) looking comfortable at mile 6
Joe Welch is not a newcomer to running, we're regularly reporting on his marathon and distance achievements. This weekend though Joe raced at a new distance for him – 5k. Usually the entry distance for most runners, Joe's first 5k took place in Kilmarnock (we do have 5k races closer to home Joe!) where he took 3rd in Ruby's 5k Road Race in the Kilmarnock Halloween Running Festival finishing in a fantastic debut time of 17:37.
Parkrun this weekend was full of PBs and best time this year achievements, despite the colder weather. The biggest turnout for the Harriers was at the new Bodelwyddan Castle parkrun now in its 10th week in a field of 67 on the course. 6 Harriers raced, 5 PBs with all 6 taking positions in the top 15.  David Baugh led the Harriers home in 3rd, just 9 seconds outside his PB in 21:59. Richard Debicki took 4th taking 4 mins 25 secs off his PB to finish iń:22:21 showing his recent addition to the club is only to our benefit. Tony Benton also smashed his PB by 2 mins 9 secs, finishing in 9th, and 23:11. The PBs continue, Katy Baugh 10th & 4th Lady in 23:26, a 33 second improvement, Victoria Whitehead 11th & 5th Lady, 46 seconds faster in 23:30 and 15th Duncan Jones, 32 seconds better in 24:16.
Vic Belshaw and Emma Collins headed over to Wepre for the 2nd toughest parkrun in the UK. Vic was 6th in 21:11 with Emma 17th & 1st Lady in 24:13. Also running locally Dawn Marshall & Andy Morris took part at Conwy with both achieving season's bests. Dawn hoping to show further improvement as she continues to come back from injury was delighted with 26:55, her first time sub-27 minutes in 2 years, whilst Andy was equally delighted, hoping for sub-30, and finishing in 28:46. Joe Welch took things easy at Troon in 28:22.
Results
Snowdonia Marathon Alaw Evans 695th, 101st Lady & 45th SF PB 4:09:10 , Huw Williams 941th & 256 SM PB 4:21:35
Porth Eirias 10k David Jones 25th 46:06
Killieween – Kilmarnock Halloween Running Festival – Ruby's 5k Road Race Joe Welch 3rd PB 17:37
Parkrun Bodelwyddan Castle David Baugh 3rd 21:59, Richard Debicki 4th PB 22:21, Tony Benton 9th PB 23:11, Katy Baugh 10th & 4th Lady PB 23:26, Victoria Whitehead 11th & 5th Lady PB 23:30, Duncan Jones 15th PB 24:16 Wepre Vic Belshaw 6th 21:11, Emma Collins 17th & 1st Lady 24:13  Conwy Dawn Marshall 98th & 19th Lady 26:55, Andy Morris 120th 28:46 Troon Joe Welch 56th 28:22