Run for Fun graduates shine at parkrun whilst Emma Collins takes another age category record
Denbigh Harriers latest Run for Fun class graduated with honours on Saturday at Conwy Parkrun with the class were supported on this 3.1mile/ 5k course by Run Leaders and previous graduates.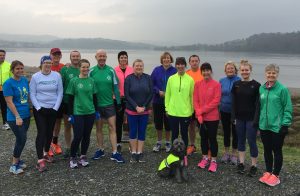 First home Elen Baugh, 10th Lady in 23:51 just behind her PB. Then Bob Neale 24:25 followed by Sali Powell who graduated in March 2017 in 24:58. Sarah Bayliss finished in 26:34 with run leader Ian Jones pacing Julie Roberts another Run for Fun graduate getting back to running after injury to sub-30 mins in 29:28.
Roger Snaith paced the first of this year's graduates Eileen Williams home in 30:06 (which would have been sub-30 as a chip time). Well done Eileen! Graduate Sonia James completed the race in 31:45. Two previous graduates, Eurian Mitchelmore took 2 minutes off her PB to finish in 32:01 with Diane Lloyd finishing in a PB of 35:52.
Next graduate home was Lowri Davies in 38:19 supported on the course by Menai Baugh with Lydia Clynch running with Dawn Marshall finishing in 44:09. Many of our graduates had never run before but have achieved this 5k race milestone by following a 10 week couch to 5k programme delivered by Denbigh Harriers passionate and dedicated run leaders. Our next course will start in January.
Over in Wepre and after several attempts at the Ladies V55 course category record, Emma Collins was finally successful on Saturday finishing in 23:23; and bettered her previous PB by a substantial 46 seconds and was First Lady home. Denbigh Harriers now holds two of the age category records for this very hilly course which is one of the UK's most challenging park runs. Congratulations Emma Collins!
Over in Nant y Pandy Chris Baldwin bettered his time from last week in 25:39. At Bodelwyddan Craig Jones stormed home in third and 19:55. David Baugh produced a PB in 21:24 with Tony Benton getting a PB in 22:54. Another PB for 4th woman Victoria Whitehead in 23:30. Jon Whitehead finished in 26:50 with Sian Pritchard getting a PB to finish in 28:49.
Results
Parkrun Conwy Elen Baugh 10th Lady 23:51, Bob Neale 24:25, Sali Powell 24:58, Sarah Bayliss 26:34, Ian Jones 29:27, Julie Roberts 29:28, Roger Snaith 30:05, Eileen Williams 30:06, Sonia James 31:45, Eurian Mitchelmore PB 32:01, Diane Lloyd PB 35:32, Lowri Davies 38:19, Menai Baugh 38:20, Lydia Clynch 44:08, Dawn Marshall 44:09 Wepre Emma Collines 1st Lady PB 23:23, Vic Belshaw 19th 23:24 Nant y Pandy Chris Baldwin 16th PB 25:39 Bodelwyddan Craig Jones 3rd 19:55, David Baugh 11th PB 21:24, Tony Benton 19th PB 22:54, Victoria Whitehead 4th Lady =PB 23:30, Jon Whitehead 37th 26:50, Sian Pritchard 8th Lady PB 28:49