Friendship, teamwork and new challenges on a busy weekend for the Harriers
We start on Saturday with Roger Snaith and David Spencer making the short journey over to Portmadog to take part in the Trailffest 2018 Mountains – Sea but this is no downhill race. The tough, enjoyable race which should be a half marathon, the route was cut short this year to 12 miles due the bad weather over the last few days bringing down trees etc. Seeing tumbles a plenty in the first few miles, Roger and David ran close to each other until mile 9 when David wasn't feeling very well. So in true harrier spirit Roger and David stuck together to make sure they both crossed that finish line finishing together in a time of 2hrs 34 mins and 114th place.
Sunday dawned bright and hot or damp and drizzly depending on whether you were in Wales, England or South Africa. Dan Jones got the best of the weather and the toughest of races. Competing to celebrate 100 years of his company Sanlam, Dan was in South Africa for the Sanlam Cape Town Marathon for a race it was only confirmed 2 weeks ago that he'd have a place at. Now it's not advised to run a marathon without training but Dan's a seasoned marathon runner and having last run a marathon in April he was confident he could do it. And he did. Having run the 5k Peace run on the Saturday to loosen his legs and acclimatise to the heat, Dan joined the start line at 6:40am just as the sun was coming up with 11.500 runners singing the national anthem to get themselves underway. Fantastic atmosphere, warm, generally flat course with head or tail wind sections and unwavering support from the local crowd, Dan finished 599th in 3:19:58 and delighted with his run. This race is now on the bucket list for other club members.
Not quite as far afield, Emma Collins made her way to the Peak District to compete in the Biggin Trail Race, part of the Peak's trail autumn series. On a beautiful day and with stunning surroundings, Biggin has 10 miles of scenic trail with Emma finishing as 3rd Lady and 1st VF50 in 1:21:24 and achieving a Gold certificate awarded to ladies completing the course in under 1 hour 30 minutes.
Back at home where the day dawned drizzly, 3 Harriers were delighted that the weather cleared just as they were starting the Bespoke Llyn Alwen Trail Race 11.5k. A clockwise circuit of Llyn Alwen, one of our greatest local runs, teamwork and friendship was out in full force. Sali Powell put her own race aside to run with Hannah McDonnell, supporting her all the way round as  she I wasn't feeling all that great. They finished in great times of 69:28 and 69:30 and 21st and 22nd Ladies respectively. Dawn Marshall ran a solid race and remained strong all the way around and was delighted to finish 17th Lady and 1st Harrier home in 68:54.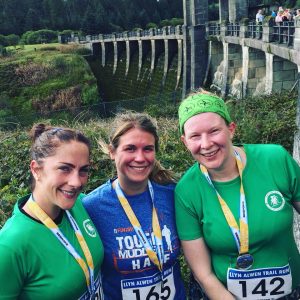 Left to right: Hannah McDonnell, Sali Powell, Dawn Marshall
Mat Jones and Tony Benton arrived in the land of chocolate and chips at for the National Trust 10k at Chirk Castle on Sunday morning. Finding a gap in the rain they set off with a field of 30+ for a very undulating – pretty sure that there was more uphill than downhill in spite of it being a circular course – trail race around the Castle Grounds. Mat finished 3rd in 45.45, Tony 50:15.
Also racing this weekend were Ceri Belshaw in the Elidir Fawr Fell Race on Saturday finishing this 8K with 853 metres of ascent in 1:18:42. Taking on the Abersoch Half Marathon as a training run before Cardiff Half next month, Hywel completed the course in 1:53:03. Over in Macclesfield, Menai Baugh ran the 5 k on Sunday in fresh autumnal weather. She was second lady 60 in a time of 25:55. Lisa Dafydd took on the half marathon, finishing in 2:13:21. And if running a marathon in the heat sounds hard, spare a thought for Rhian Pierce competing in the Sandman Classic Triathlon. 1,000 metres open water swim followed by a 60 km bike ride and finished off with a 10 km run, Rhian in her first triathlon, and first open water swim, finished brilliantly as 30th Lady in 3:43:39.
The long-awaited series results were published this week for the North Wales Fell Series 2018. Winning their categories were Emma Collins 1st VF50 and Menai Baugh 1st VF60 with Vic Belshaw taking 3rd VM50. Presentations to prizewinners will be at Breidden Hills on Sun 14th October.
3 parkruns for 4 Harriers this week. Sian Pritchard was at Kingston, getting back to her best form, just 9 seconds off her PB as she finished in 46th Lady in 27:51. At Conwy, it was another PB for Phil Hayes after his 10k PB last weekend, he took 17 secs off his course PB to finish in 15th and 20:09. At Wepre, Vic Belshaw was 10 seconds outside his PB and age record to finish 7th in 20:59 with Tony Benton in his first race of 2 this weekend in 18th and 24:29.
Results
Trailffest 2018 Mountains – Sea Roger Snaith David Spencer 114th 2 hours 34 mins
Sanlam Cape Town Marathon Dan Jones 599th 3:19:58
Biggin Trail Race Emma Collins 3rd lady &1st VF50 1:21:24
Bespoke Llyn Alwen Trail Race 11k Dawn Marshall  61st &17th Lady 68:54, Sali Powell 65th & 21st Lady 69:28, Hannah McDonnell 66th & 22nd Lady 69:30
Chirk Castle National Trust 10k Mat Jones 3rd 45:45, Tony Benton 50:15
Elidir Fawr Fell Race Ceri Belshaw 1:18:42
Abersoch Half Marathon Hywel Roberts 1:53:03
Macclesfield Half Marathon Lisa Dafydd 2:13:21 5k Menai Baugh 2nd VF60 25:55
Sandman Classic Triathlon Rhian Pierce 247th, 30th Lady & 18th SF, 3:43:29
North Wales Fell Series 2018 Category Results Vic Belshaw 3rd VM50 0.858, Emma Collins 1st VF50 0.986, Menai Baugh 1st VF60 1.203
Parkrun Kingston Sian Pritchard 46th Lady 27:51, Conwy Phil Hayes 15th PB 20:09, Wepre Vic Belshaw 7th 20:59, Tony Benton 18th 24:29