Emma Collins and Menai Baugh run for Wales
As we draw to the end of a fantastic year for them both,  Emma Collins and Menai Baugh represented Wales in the British and Irish International Cross Country Championships in Singleton Park, Swansea on Saturday. Conditions were perfect – glorious sunshine and 9c. The course was 3.6 miles, three laps and hilly with 305ft of ascent but they both really enjoyed the experience of being part of the Welsh Team. Emma was 2nd counter for the VF55 team, 14/19 in her age category in a quality field finishing in 26:54. Menai, part of the Welsh team for the first time, had an excellent run in the open race, holding her position in front of two other Welsh ladies, and finishing in 32:51.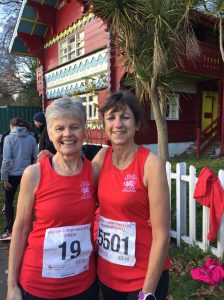 Also on Saturday was the Penmaenmawr Fell Race. It's one of the longest running fell races on the North Wales calendar and is justifiably popular for a winter race. The race had over 170 entries and the six Denbigh Harrier runners had a beautiful clear, if cold, day to run the 10.5 miles of mixed terrain including the infamous bog between the top of Penmaenmawr quarry and Tal y Fan. The route climbs just under 2000' feet mainly done in the first 2 miles. David Baugh showed consistency running this race in the same time for three years to within 20 seconds. Victoria Whitehead was pleased with her improvement on last years' time and by beating a couple of rivals. Tony Benton was running this for the first time and loved the race despite taking a tumble. Sioned Griffiths improved her time on last year by over 4 minutes after a great run of form. David Say put in a strong performance despite only just having got back into his running after his epic Lakes in a day race last month. Jon Whitehead enjoyed the perfect running day with splendid views and some great company. Thanks to Katy Baugh and Ted for their support when most needed.
On Sunday, 15 Harriers took to Conwy to race and enjoy the beautiful Conwy Half Marathon. Starting at Conwy Castle and heading out to Llandudno to run the round the challenging Orme before following the road back to Conwy, the race had a great turnout with just shy of 3000 runners completing the course on this it's 10th year. First home was Shaun Hughes finishing 8th  and 3rd SM in 1:19:47. Next was Philip Hayes 274th 1:35:44 with Mat Jones 466th in 1:42:02 and 6½ mins quicker than his last run here in 2016.
Bob Neale was delighted with his 1015th & 8th VM65 in 1:50:55 especially to be keeping company with Elen Baugh in 1135th and a PB of over 3 minutes in 1:51:26 and Melina Morris in 1145th  and 1:50:37 – not a PB but having never run Conwy before was happy to tick this tough course off her to-d0 list. Also coming in under the 2 hour mark were Hywel Roberts 1181st in 1:57:27 as he starts his training for next year's London Marathon followed by Ian Jones in 1404th and 1:57:37 with Sali Powell 1587th in 1:59:24 not far behind.
Just over the 2 hour mark and running together were Kath Evans in a season's best with Hannah McDonnell who got a massive PB by 6 mins in this her 2nd half marathon, both in 2:04:26 and 1843rd and 1844th respectively. Helen Davies and Nicola Field also training for London 2019 had great training runs in  2278th 2:15:41 and  2350th 2:17:29 respectively. Dawn Marshall was 2539th in 2:24:51 and Lisa Dafydd came 2543rd in 2:23:10. Thanks to David, Menai & Katy Baugh and Caroline & Rob Parry for their support!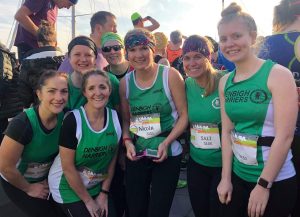 A good turnout at Parkrun this weekend with Ruth Crowther finishing Conwy in 117th and 33:53. Chris Baldwin was at Nant y Pandy and 15th in 26:54. At Bodelwyddan Castle Glen Price led the Harriers home in 5th and a PB of 19:44. Huw Williams was 6th 20:35. Mark Jones was 25th with a PB of over 1min 30 in 23:56 citing having joined Denbigh Harriers and the club training sessions delivering his improvement. Thanks Mark! Sarah Bayliss was 44th & 7th Lady 27:00 and great to see Tracey Williams racing in 91st & 31st Lady in 33:46.
Last week saw the second Border league race in Upton. The 5 mile course had sections of mud/slurry covered lanes and was pretty messy compared to Wrexham XC the previous day. Three DH's ran for second claim clubs – Craig Jones finished in 30:11, Vic Belshaw 32:30 & Emma Collins 35:39.
Finally, congratulations to 12 Denbigh Harriers, who in a new club record, have been selected to run for North Wales in the Welsh Inter-regional Cross country Championships in Llandrindod Wells on Saturday 8th December. Glen Price, Vic Belshaw, David Baugh, Ceri Belshaw, Alaw Evans, Katy Baugh, Rhian Pierce, Victoria Whitehead, Ceri Diss, Melina Morris, Emma Collins & Menai Baugh.
Results
BMAF British & Irish Masters Cross-Country International Team Race Emma Collins 110th & 14th VF55, 2nd counter for Wales VF55 26:54, Open Race Menai Baugh 19th 32:51
Penmaenmawr Fell Race David Baugh 41st 1:35:08, Victoria Whitehead 63rd (10th F) 1:42:05, Tony Benton 79th 1:47:26, Sioned Griffiths 97th 1:54:36, David Say 115th 2:03:02, Jon Whitehead 131st 2:10:02
Conwy Half Marathon (chip times) Shaun Hughes 8th & 3rd SM 1:19:47, Philip Hayes 274th 1:35:44, Mat Jones 466th 1:42:02, Bob Neale 1015th & 8th VM65 1:50:55, Elen Baugh 1135th PB 1:51:26, Melina Morris 1145th 1:50:37, Hywel Roberts 1181th 1:57:27, Ian Jones 1404th 1:57:37, Sali Powell 1587th 1:59:24, Kath Evans 1843rd SB 2:04:26, Hannah McDonnell 1844th PB 2:04:26, Helen Davies 2278th 2:15:41, Nicola Field 2350th 2:17:29, Dawn Marshall 2539th 2:24:51, Lisa Dafydd 2543rd 2:23:10
Parkrun Conwy Ruth Crowther 117th 33:53 Nant y Pandy Chris Baldwin 15th 26:54 Bodelwyddan Castle Glen Price 5th PB 19:44, Huw Williams 6th 20:35, Mark Jones 25th PB 23:56, Sarah Bayliss 44th & 7th Lady 27:00, Tracey Williams 91st & 31st Lady 33:46
Borders League Craig Jones 30:11, Vic Belshaw 32:30, Emma Collins 35:39