Cross-Country League hots up as Denbigh Harriers Men's and Women's teams fight to stay in Division One
This week it was all about Cross-Country – the fourth and penultimate race in the North Wales league series and with the Men's and Women's teams in Division 1 for the first season – the fight is on to stay up.
Both teams are still in a fragile position and both have our neighbours Prestatyn Running Club as our nearest target – it's not personal, just the way the season is shaping up. The men closed the gap by 128 points but are still in the relegation zone and need to beat Prestatyn by 139 points in the last match next month at Oswestry to finish 6th. The women are more comfortably in 5th, 127 points ahead of Prestatyn, 78 points behind Buckley, but with Prestatyn scoring 88 in this race versus Denbigh's 157, nothing is certain.
Both races were indecently fast and it was great to see Shaun Hughes have a go at staying with the front group and then defending his 12th place to the end despite being isolated and a chasing group of four working hard together to catch him in this 4 lap race with 450ft+ climb. Huw Williams has improved a lot to finish as 6th counter with Owen Conry, seventh Harrier home, closing fast. With Vic Belshaw, our fifth counter and 2nd VM55, unable to race at Oswestry we'll need to go even faster. Hopefully on the tougher, longer course marathon men Dan Jones, second counter and Joe Welch, fourth, can get further up the field while Glen Price, third, holds on as well again.
David Baugh, eighth Harrier home, ran a well-judged race and will be better placed to cope with the Oswestry hills than most. Phil Hayes, ninth, Mat Jones, tenth and Steve Gadd  eleventh ran well, they may find the Oswestry Hills a shock but they certainly have the speed to have great races. Tony Benton, thirteenth, still has some speed in the aged system and picked off half a dozen rivals on the last lap but missed out on catching his greatest rival, Duncan Jones, twelfth, who steadily widened the gap on the gradients.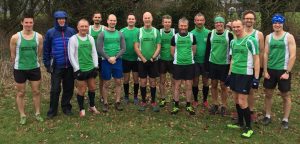 Left to right: Shaun Hughes, Team Captain Chris Baldwin, Vic Belshaw, Phil Hayes, Huw Williams, Steve Gadd, Tony Benton, Glen Price, Owen Conry, Mat Jones, David Baugh, Duncan Jones, Joe Welch, Dan Jones
In the women's race of 2.5 laps and 300ft+ of climb, we have a number of special mentions. Rhian Pierce ran a carefully judged solo run up front to finish 14th, 2nd VF35 and Denbigh's first counter, with our next 5 (4 to count), finishing in the top third of the field, led in by a very determined Mel Morris from the fast-improving and exceptionally well-running Elen Baugh. An astonishing final lap by Tracey Williams gave her the honour of being 4th counter just ahead of Katy Baugh and Sioned Griffiths.
In her second cross-country Mari Williams looked comfortable ahead of Sali Powell in a reverse of the North Wales Championships at Rhug last week. Menai Baugh cemented her VF60 category win just behind them and Sarah Bayliss zoomed through back after a 5 year break from cross-country. Dawn Marshall, saw the Harriers home, demonstrating that there is no substitute for getting stuck in at every opportunity.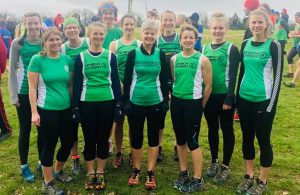 Left to right: front row – Sali Powell, Sarah Bayliss, Menai Baugh, Rhian Pierce, back row – Mari Williams, Dawn Marshall, Sioned Griffiths, Mel Morris, Elen Baugh, Katy Baugh
A quiet parkrun this week saw Sian Pritchard set a new PB at Bushy as she trains for the London Marathon whilst Jon Whitehead was just off his PB in 26:33 at Bodelwyddan Castle. Dawn Marshall in her first run of the day, paced her sister around Stretford parkrun in 35:59.
Results
North Wales Cross-Country League Northop
Women: Rhian Pierce 14th 21:53, Melina Morris 45th 25:02, Elen Baugh 47th 25:12, Tracey Williams 51st 25:39, Katy Baugh 52nd 25:43, Sioned Griffiths 53rd 25:44, Mari Williams 67th 26:22, Sali Powell 79th 27:26, Menai Baugh 85th 28:08, Sarah Bayliss 92nd 28:36, Dawn Marshall 122nd 32:33 Women's Division 1: Race 4:  157 points, 6th overall. After 4 races 526 points 5th overall. Female Masters: Race 4: 61 points, 5th overall. After 4 races 4th points, 4th overall
Men: Shaun Hughes 12th 28:52, Dan Jones 52nd 32:09, Glen Price 60th 32:32, Joe Welch 63rd 32:36, Vic Belshaw 66th 32:44, Huw Williams 88th 34:22, Owen Conry 89th 34:26, David Baugh 92nd 34:36, Phil Hayes 95th 34:42, Mat Jones 98th 34:59, Steve Gadd 102nd 35:29, Duncan Jones 125th 37:26, Tony Benton 130th 38:05 Men's Division 1: Race 4: 341 points, 6th overall. After 4 races 1750 points 7th overall. Male Masters: Race 4: 112 points, 9th overall. After 4 races 521 points, 10th overall
Parkrun Bushy Sian Pritchard PB 25:27 Bodelwyddan Castle Jon Whitehead 26:33 Stretford Dawn Marshall 35:59