Mountainous achievements on the Carneddau as Emma Collins shows her star quality in Deganwy
Fab turnout at local race the Deganwy Dash on Friday evening  where 11 Denbigh Harriers were among over 200 runners who lined up at the start. The course followed the bank of the river Conwy from Deganwy to the RSPB bird reserve and back affording spectacular views of Conwy castle and the Orme, at least for those with time and breath to look. Rain earlier in the afternoon saw to it that runners had plenty of puddles on the course to either negotiate or splash through, whichever was their want. The rain returned about half way through the race and provided a cool refreshing shower appreciated by most runners. At the finishing line, Philip Hayes was first Harrier home in 34:53 followed by Hywel Roberts 35:29. Run of the evening, however, must go to Emma Collins who won 1st lady vet 55 in 36:04 with a performance that not only saw her finish 6th lady overall but also ahead of the all of the men in her age category showing why she is such a consistent North Wales champion. Next Denbigh Harriers to finish were Tony Benton 36:09 and Duncan Jones 36:35 taking first and second male vet 55 places respectively. Not far behind them was Fred Jones 37:43 while a strong finish by Ian Jones 39:56 saw him dip across the line in just under 40 minutes. Bob Neale came in at 40:33 followed by Sali Powell 42:00, Hannah McDonell 44:34 and Paul Jones 45:42 to complete the Denbigh contingent.
By contrast a small group of Harriers, Glen Price, Victoria Whitehead and Ceri Belshaw set out for what seemed like a good idea on the Welsh 1000s metre fell race – 20.9 miles with 9,232 feet climb. Slightly apprehensive at the start they set off from Abergwyngregyn to run up to the top of Aber Falls and then the dodgy river crossing to trudge across the bilberry bushes & 'tusocky grass' (both technical terms for difficult terrain with no path making it very energy zapping) to reach the Carneddau. The low cloud made navigation very tricky. Ceri having tweaked her knee retired at Ogwen. Ticking the checkpoints off – Aryg, Carnedd Llywelyn, Carnedd Dafydd – and taking support from other runners – it was a shame the stunning scenery couldn't be seen. A lovely descent to Ogwen before the steep climb up the Gribn was a real shock to the system after all the downhill running. The scramble and rock climbing was very hairy in parts – good job if don't mind heights and into the mist in top of Glyder Fawr and followed a good line to descend to Pen y pass. With Glen and Victoria, regularly feeling Ceri might have had the right idea, it was "just" Snowdon left. The Pyg track felt endlesss and with one final last energy surge both managed to drag themselves up to the summit of Carnedd Ugain before retracing their steps to shuffle to the summit of Snowdon. With Glen was waiting at the summit finishing in 6 hours 24, with Victoria joining him completing the race in 6 hours 39. Though the race was over, the job of descending Snowdon was the last of the day and with extra layers & snacks carried up by Jon, Victoria's husband both made it back to Llanberis in one piece – suggesting this might be a once in a lifetime race – or as Glen puts it – "I am taking up knitting. The pain has subsided, but the walk down will never be forgotten".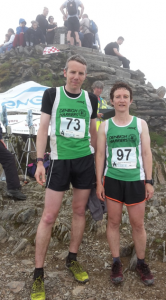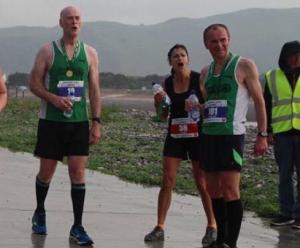 Glen Price & Victoria Whitehead       Tony Benton, Emma Collins & Duncan Jones
on Snowdon                                            encouraging DH team mates after finishing
Rounding up the week, Sarah Bayliss ran at Wepre Parkrun, coming home as third lady in 27:12, just 12 seconds outside of her PB.
Results
Deganwy Dash Phil Hayes 34:53, Hywel Roberts 35:29, Emma Collins 6th lady, 1st V55 & 1st VF55 36:04, Tony Benton 1st VM55 36:09, Duncan Jones 2nd VM55 36:35, Fred Jones 37:43, Ian Jones 39:56, Bob Neale 40:33, Sali Powell 42:00, Hannah McDonnell 44:34, Paul Jones 45:42
Welsh 1000s Glen Price 6 hours 24, Victoria Whitehead 6 hours 39, Ceri Belshaw Retired
Parkrun Wepre Sarah Bayliss 31st & 3rd lady 27.12