A very impressive turnout of 29 hardy Denbigh Harriers completed the 26th Nick Beer 10k which runs a hilly route round the Great Orme in Llandudno on Sunday 11th February. The race was also the Welsh National 10k Championships and the club picked up three national age category prizes with Emma Collins winning gold in the F55 category, Victoria Whitehead silver in the F45 category and Menai baugh bronze in the F55 category. The conditions for this race were severe with very strong winds and freezing temperatures making fast times on the course difficult.  It was impressive therefore that two runners, Shaun Hughes and Tony Wood  managed to get under the 40 minute mark with Daniel Jones and Craig Jones just over. Emma Collins and Victoria Whitehead ran a close race with one place separating them in the end. There were similar club finishes between Hywel Roberts and Daniel Schraibman along with Melina Morris and Elen Baugh.
19th Shaun Wyn Hughes 38:08, 31st, Tony Wood 39:19, 43rd  Daniel Jones 40:47, 46th Craig Jones 40:59, 113th David Baugh 45:22, 153rd Tony Benton 47:09, 158th Emma Collins 47:36, 159th Victoria Whitehead 47:27, 168th Ceri Belshaw 48:07, 183rd Hywel Roberts 48:28, 184th Daniel Schraibman 48:52, 195th Katy Baugh 48:58, 222nd Gerwyn Lloyd 49:56, 227th Ian Jones 50:35, 237th Melina Morris 50:55, 238th Elen Baugh 50:59, 244th Arwyn Jones 50:4, 260th Sali Powell 51:37, 292nd Llyr Jones 53:08, 299th Jon Whitehead 53:43, 301st Kate Wilson 53:55, 319th Menai Baugh 54:41, 381st David Spencer 57:05, 413th Ruari Benton 58:41, 443rd Robert Parry 59:41, 466th Adam Smith 1:00:42, 477th Helen Davies 1:01:37, 514th Hannah Mcdonnell 1:03:37, 580th Anwen Brown 1:10:33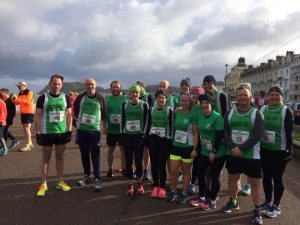 Five Denbigh Harriers ran Parkruns on Saturday with Sian Pritchard running 25.39 in the Bushey Parkrun (London) , Martin Cortvriend 21.05 and Vicky Cortvriend 36.21 in the Rising Sun Parkrun (Newcastle), Gwennan Johnson 30.33 in the Conwy Parkrun and Ceri Belshaw who doubled up for the weekend running the Wepre Parkrun in 25.39.