Category wins a plenty as Denbigh Harriers oldest and youngest men take medals this weekend
Quiet racing week this week and given the heat is back, that's not a bad thing. Deestriders summer series continued on Thursday with Emma Collins the only Harrier on the course, fellow series runner Tony Benton unfortunately sidelined with his Achilles. Emma continued her fantastic form as 29th, 5th lady & 1st VF55 in 32:55 and taking 40 seconds off her season PB which she set in June. One race left in the series but 3 wins in 3 pretty much seals the category win for Emma.
Parkrun always sets the weekend up and at Conwy Sarah Bayliss put in another consistently fast run with her 3rd fastest time on this course in 25:49 and clearly not holding anything back in spite of knowing she's racing the Vale of Clwyd the next day. Over in the newly established Newborough Forest parkrun, Paul & Mari Jones ran this tough forest course. Great to see Paul back after injury completing the course in 28:31, followed in by Mari – a great run for her – in 37:55.
Sunday morning dawned bright and hot for the rescheduled Vale of Clwyd 5k and 10k races – polar opposite to the snow which caused the original postponement. 14 Harriers took to the course accounting for 15% of the field and a great testament to these cracking local races. The 10k went to plan for all involved and it was fantastic to see our youngest, Shaun Hughes and oldest, Ron Birch, men – both with such a fine running pedigree – lining up together on the start line.
First home for the Harriers was Shaun Hughes 2nd in 36:08. Another fantastic achievement for Shaun having raced comfortably holding second place the whole way round and finishing over 90 seconds ahead of the 3rd place runner. Fred Jones came in next, another good run for him in 13th & 2nd VM60 47:24. A cracking time at his first time on this undulating course for 3rd Harrier home Paul Goffey 20th in 50:03. 1st lady Harrier home was Melina Morris in a great run 24th & 1st VF40 in 50:28 and though she continues to be surprised with her category wins and places, there's more to come from Mel. Great to see Chris Baldwin back racing after recent injury and rightly pleased with  27th in 51:43 and holding off Bob Neale 29th 52:38, though the battle between these two super vets in not just over.
Sarah Bayliss, yesterday's parkrun wasn't enough for her this week took =33rd & 1st VF50 in 54:47. Fantastic to see such great performances from Sarah and such a well-deserved win after also coming back from a long-standing injury. Anwen Brown had a fantastic run in 36th & 3rd VF40 55:31 showing that whilst she prefers the hills to the roads, she's got plenty of ability for both. Llyr Jones, another coming back from injury showed the work he's putting in on the hills are paying off in 38th and 56:28. Lastly and by no means least for the Harriers was Ron Birch. Spring chicken Ron who turns 80 next month, once again showed age is just a number as he finished in 54th & 1st VM70 in 78:07.
Over in the 5k, Craig Jones and Sioned Griffiths both put in fantastic performances and would likely have taken 2nd in the mens and womens race respectively but a missed turn meant the 5k field ran most of the 10k instead with the average finisher having run 9k. Down the field Dawn Marshall & Diane Roberts raced for 5k, then used the rest of the course as a recovery.
So to round up at the Vale of Clwyd 10k, in a fantastic day out for the club, Denbigh Harriers took the biggest prize haul home with 4 of the 13 medals on offer with Shaun Hughes 2nd male, Melina Morris 1st VF40, Sarah Bayliss 1st VF50 and Ron Birch 1st VM70.
Before the Vale of Clwyd races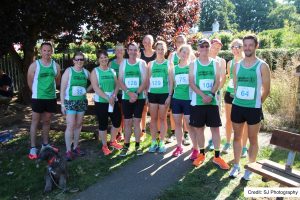 Our Vale of Clwyd 10k winners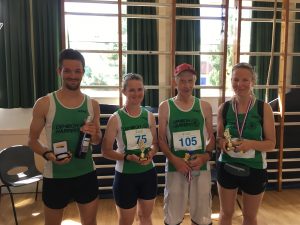 Left to Right: Shaun Hughes 2nd, Sarah Bayliss 1st VF50, Ron Birch 1st VM70, Melina Morris 1st VF40
Results
Deestriders Emma Collins 29th, 5th Lady & 1st VF55 32:55
Vale of Clwyd 10k Shaun Hughes 2nd 36:08, Fred Jones 13th & 2nd VM60 47:24, Paul Goffey 20th 50:03, Melina Morris 24th & 1st VF40 50:28, Chris Baldwin 27th 51:43, Bob Neale 29th 52:38, Sarah Bayliss =33rd & 1st VF50 54:47, Anwen Brown 36th & 3rd VF40 55:31, Llyr Jones 38th 56:28, Ron Birch 54th & 1st VM70 78:07 5k (approximately 9k) Craig Jones 2nd 34:01, Sioned Griffiths 9th & 2nd Lady 48:40, Dawn Marshall 24th  &2nd VF40 61:39, Diane Roberts 30th & 3rd VF40 73:58
Parkrun Conwy Sarah Bayliss 17th lady 25:49 Newborough Forest Paul Jones 71st 28:31 Mari Jones 130th 37:55